Thank you all for wishing me luck for the midterms (they went well!). Now that they're done, I plan a no-alarm day tomorrow and I have a massage scheduled in the afternoon. A girl has to treat herself sometimes! And let's face it… midterms usually lead to horrible back pains.
Midterms also call for takeout and quick meals (bagels are my friends!) but this time, I also had some delicious leftovers from last week to eat. In the form of chili.
What I love when fall comes is that I can eat winter food again. Soup and stews are so good… I just can't get enough! I also love chili because if there's something that won't leave you still hungry, it is a spicy meal with tons of beans ;). I saw this pumpkin chili on Babble this summer and loved the idea of adding canned pumpkin to chili. So it got bookmarked and I waited patiently until fall to make it!

Pumpkin Chili
Adaptation of Pumpkin Chili, Babble
Ingredients:
1-2 tbsp olive oil
1 vidalia (or spanish) onion, coarsely chopped
3 cloves garlic, pressed
3 carrots, pealed and sliced
1 celery stalk, sliced
1 green bell pepper, diced
1 can (19 oz) red kidney beans
1 can (19 oz) black beans
1 can (19 oz)  pinto beans
1 can (28 oz) pumpkin puree
1 can (28 oz) diced tomatoes
1 can (28 oz) crushed tomatoes
1 cup vegetable broth
2 tbsp fresh cilantro
2 tsp cumin
2 tbsp chili powder
2 tsp dried oregano
1/2 tsp dried parsley
Salt, pepper to taste
Directions: Heat oil in a 6-quart (or bigger) pot over medium heat. Add vegetables (onion, garlic, carrots, celery, bell pepper) and cook, stirring, until onion starts to get translucent. Add all the other ingredients and stir well. Bring to a boil, reduce to low and cover. Simmer for 1 hour, stirring from the bottom every 10-15 minutes.
Fills a 6-quart pot. Serves 8-10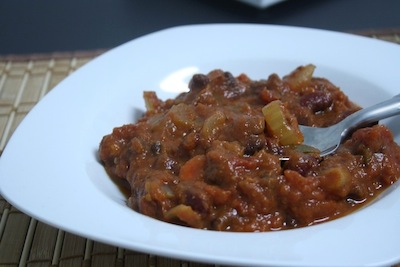 This chili tastes amazing! The pumpkin adds a little sweetness but the taste is subtle and it gives a great creamy texture. And you get tons of leftovers for the week!
Have a great weekend!