For me, a synonym of fall is buy-tons-of-pumpkin-puree season. And most of it goes in baked goods. Sweet breads, pies, trail mixes. And if it is not baked it is still sweet; coffee, yogurt, butter…
But pumpkin is still a squash… and when I buy non-pumpkin squash, it is always for a savory meal. So… why not pumpkin? I don't have an answer. But I did have my first experience using pumpkin in a main dish this year when I made my pumpkin chili. And pumpkin is definitely just as delicious in a salty dish as it is in a sweet dessert.
So when I saw a recipe for pumpkin risotto in Women's Health Magazine, I knew I had to try it. Because I love pumpkin. And I love risotto. And it's been a long, long time since I've made myself a really good homemade risotto!

Pumpkin Mushroom Risotto
Adaptation of "Pumpkin and Shiitake Risotto with Crispy Sage", Women's Health Magazine, October 2011
Ingredients:
4 cups vegetable broth
1 1/2 tsp dried sage leafs
1 tbsp olive oil
1 vidalia onion, finely chopped
1 cup arborio rice
1 cup sliced cremini mushrooms
1/2 cup dry white wine
3/4 cup pumpkin puree
3/4 cup finely grated parmesan
Salt, pepper to taste
Directions: Pour the broth in a medium saucepan, add dried sage and heat over medium heat until warm. Keep on low heat.
Heat olive oil in a large saucepan or very large skillet over medium heat. Add the onion and cook until translucent. Add arborio rice and cook, stirring, for one more minute. Add mushrooms and wine and cook, stirring, until most of the liquid is evaporated. Add one laddle of broth and cook, stirring, until most of the liquid is evaporated. Continue to add a ladle of broth at a time, stirring, until liquid is evaporated after each addition.
Add pumpkin puree, parmesan and salt + pepper to taste and cook stirring, for 1-2 more minutes. Serve garnished with parmesan.
Serves 4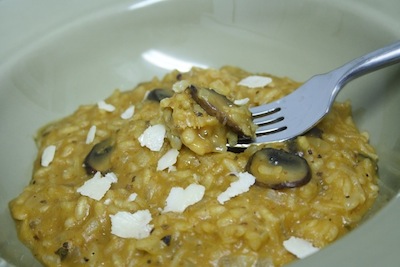 This risotto was amazing! I actually made it twice in one week! It is also more filling than most risottos because of all the fiber the pumpkin adds!
Now I need to find more delicious pumpkin entree recipes to make ;).