The change from summer to autumn also means it's time to change from summer food for winter food. And what I'm really craving when it gets cold outside is soups, stews and pasta.
Every week since the end of October, I've made a batch of soup, stew or pasta sauce. It's comfort food. And leftovers for the whole week!
I've made…
When I saw Courtney's Spinach Lentil Soup, I remembered how much I love spinach and lentils soups, and how long it has been since I've had some. I actually planned to follow the recipe, but ended up feeling creative in the kitchen :P.

Spinach, Lentil & Rice Soup
Adaptation of Spinach Lentil Soup, Sweet Tooth Sweet Life
Ingredients:
1-2 tbsp olive oil
1 white onion, chopped
5 cloves garlic, pressed
1 liter vegetable broth
1 cup water
3 tsp Worcestershire sauce
1/2 tsp dried thyme
1/4 tsp dried sage
1 bay leaf
salt, pepper to taste
1/2 cup french lentils, rinsed
1/8 cup wild rice
1/4 cup brown rice
3 carrots, peeled and sliced
2 celery stalks, sliced
1 package (500 g) frozen chopped spinach
1 can (28 oz) diced tomatoes, undrained
Directions: In a large saucepan, heat olive oil over medium heat. Add onion and garlic and cook for 3-4 minutes, until tender. Add the broth, water, Worcestershire sauce, thyme, sage, bay leaf, salt, pepper, lentils and wild rice. Bring to a boil, reduce heat, cover, and simmer for 20 minutes.
After 20 minutes, add brown rice, carrots, celery, frozen spinach and tomatoes. Bring back to a boil, reduce heat, cover, and simmer for 20-25 minutes.
Serves 6-8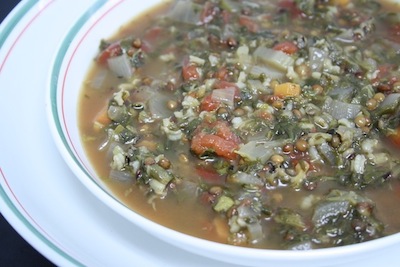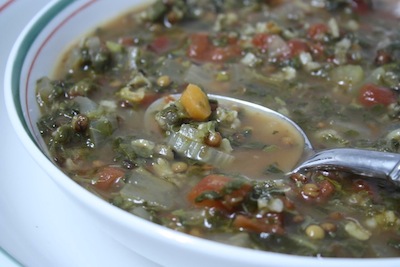 This soup is delicious. If you like lentil soup, you'll definitely like this one. The vegetable broth, tomatoes and lentils make a delicious broth and the Worcestershire sauce adds a little extra flavor.  And you've got all you need in there: vegetables, protein and grains! Perfect meal with a little bread on the side.