I have been following The Eczema Diet for over a year now. Although I travelled by plane a couple times and stayed in hotel rooms, I never deviated from the diet during that time. I thought it might be useful to some if I shared how I do this.
Note that you can totally go to restaurants and follow the diet as closely as possible while diverting if necessary. This is something I personally don't want to do. I prefer avoiding restaurants since even if I only get on-plan foods there is always a chance of mistakes and cross-contaminations. So this post is on how I follow the diet while travelling and without going to restaurants.
Obviously, when travelling you always have the option to stay in an apartment or in a hotel room with a full kitchen, in which case you could basically cook all your meals. But what can you do when you don't have a kitchen?
Bringing food to the hotel room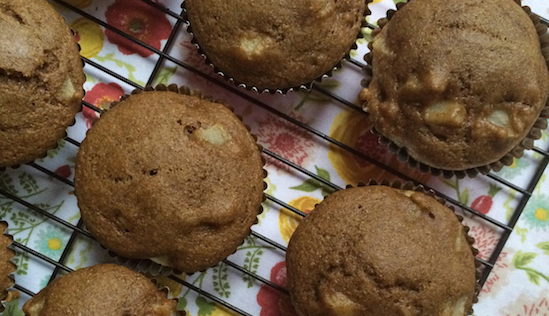 Snacks
Bring some baked goods and homemade snacks with you! If you go by plane, you can put them in your checked luggage, but beware – they will still be good enough to eat, but they will get very humid. It is thus best to bring with you in your carry on. Note that you are allowed to bring food on the plane – only liquids are restricted.
Here are some good snacks to bring:
Meals
If you get a room with a mini refrigerator, you can bring some of your main meals with you. If you have a microwave, you can even bring hot meals to reheat! If you are travelling on the road, you could bring all your food if you want!
But if you are coming by plane, you are restricted by the space you have. Through a phase watching flight attendant vlogs on YouTube, I found the eBags Crew Cooler II, which is a lunch pail originally designed for flight attendants and pilots. It is big enough to bring quite a few meals, keeps everything fresh and can be brought as a carry-on or personal item on the plane (note that I found it was cheaper to buy on eBay for shipping to Canada, and it was still shipped directly from the company). There is a big cooler compartment where you can put your meals, and lots of other pockets where you can put your baked goods. I like to bring a big tupperware of roasted vegetables and some pasta meals since these can't be made in the hotel room. Note that this is for convenience and meal variety – at first I travelled without bringing meals and was totally fine.
Making food in the hotel room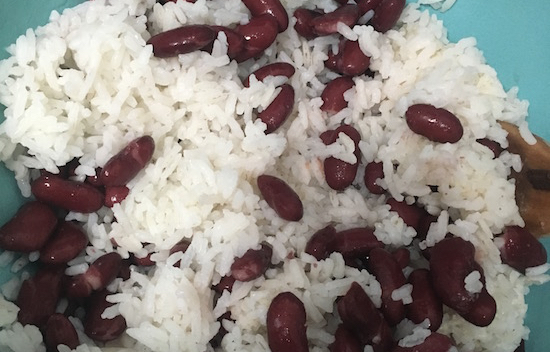 You can easily make some of your meals in your room. Depending on where you are going and the grocery stores there, you may need to bring some items with you, but most grocery store should have what is necessary. I often bring oats from home, but only because I have a soy allergy and thus can't have oats that have been in contact with soy.
Breakfast
Breakfast is quite easy to make in a hotel room – indeed, you can make some porridge! Buy some instant oats (they have a higher glycemic index so they are not recommended for everyday use, but they are a good option when travelling) – or some quinoa or buckwheat flakes if you can't have oats. Make the porridge in the microwave, or if you don't have one, use the coffee maker for hot water. The easiest add-on to your porridge is a chopped up banana if you can have them. Otherwise, you can check at the grocery store if they have canned pears in sugar water (no juice, no high fructose corn syrup, no artificial sweeteners), or add a bit of maple syrup.
Lunch and dinner
When you are not eating the meals you brought with you, make your meal in the room! My secret: I bring a small rice cooker (3 cup uncooked, 6 cups cooked) in my luggage (they are really cheap in department stores or on amazon). By bringing the rice cooker, I can easily make rice or quinoa in my room, and I buy canned beans to make rice/quinoa and beans – buy different kinds of beans for a little variety! I like black beans, red kidney beans, navy beans, cannellini beans, pinto beans… Obviously, you also need to bring a can opener. You can rinse the beans directly in the can, using the lid to strain. Bring salt with you or buy some when you get there.
For vegetables, baby carrots are a good option to eat raw, and you can also buy green beans. Most rice cookers come with a steaming basket in which you can cook the green beans, and there are also microwavable bags of green beans in a lot of grocery stores.
Snacks
In addition to bringing baked goods for snacks, you can also get some when you are there: bananas, baby carrots, raw cashews and rice cakes are easy to find in most grocery stores.
In summary: What I personally do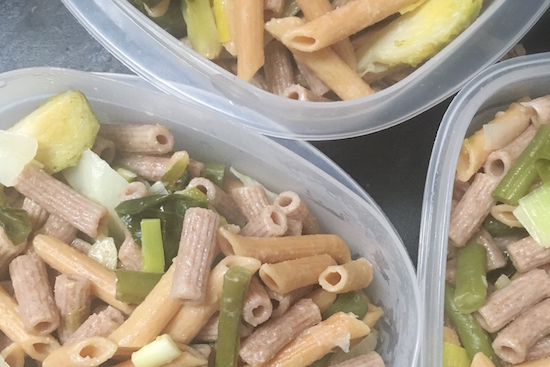 Here is a summary of what I tend to do:
I try to get a hotel room with a refrigerator and microwave.
I bring some food from home in my eBags cooler, on the plane.

Some snacks (muffins, bread…)
Some meals: roasted vegetables and pasta
For long trips, one cold meal to have on the plane or during layover

I go grocery shopping right away when I get to my destination.
I make meals in my room

Oatmeal for breakfast
Rice or quinoa and beans for lunch/dinner

I'll eat a meal I brought once a day and rice and beans once a day. If I run out of pre-made meals (or when I didn't bring meals), I'll eat rice and beans twice a day.
I use a tupperware from the meals I brought to eat my oatmeal and rice and beans. If there is no refrigerator and microwave, I would just have the oatmeal and rice and beans, plus the baked goods I brought from home. Bring one container/tupperware in your luggage to eat in.
What I bring in my luggage
Carry-on:
Baked goods and meals in my eBags cooler (including lunch for the plane if it is a long trip).
Skin Friend and Calcium Matrix supplements.
Checked luggage essentials:
Small rice cooker
Can opener
Fork and spoon
Checked luggage optionals (can usually be bought on site):
Celtic sea salt
Instant oatmeal
Buckwheat or rice crackers