I've already expressed my current love for roasted Brussels sprouts. I've always loved vegetables, including Brussels sprouts, which is one a lot of people seem to hate. Roasting brings out the flavours and adds a bit of caramelization, which makes them even tastier!
Adding roasted Brussels sprouts to pasta is one of my favorite ways to use them. With some leek and garlic added to the mix, it makes a delicious dish! I like to bring it to work when I need lunch, and it is good reheated in the microwave, or in the oven, the later making the pasta a bit crunchy.
Mung bean sprouts add a bit of protein, freshness, color and alkalinity to the dish. I like to mix them in if I will use all the pasta, but sprinkle them on if I will reheat it. The pasta is also delicious without the sprouts if you don't have them on hand!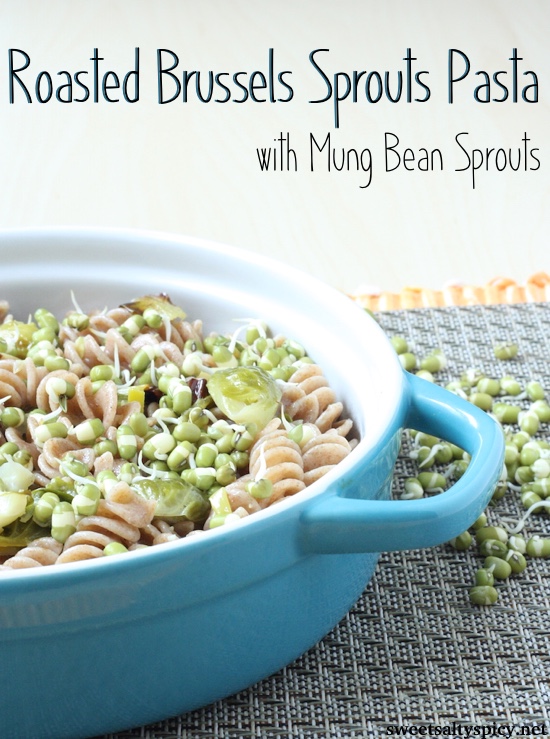 Roasted Brussels Sprouts Pasta with Mung Bean Sprouts
2017-02-05 17:48:41
Serves 4
vegan, gluten-free option, nut-free, soy-free, low salicylate, The Eczema Diet-friendly
Ingredients
4 heaping cups Brussels sprouts, quartered
1 leek, halved lengthwise and sliced
2 cloves garlic, pressed
2 tbsp virgin sunflower oil or rice bran oil, divided
1lb package of spelt, rice or quinoa pasta (I used whole spelt fusilli)
salt to taste
1/4 cup mung bean sprouts
Instructions
Preheat oven to 425°F.
Add Brussels sprouts, leek and garlic to an oven-safe casserole dish. Add 1 tbsp of oil and salt to taste and mix. Cover with a lid or aluminum foil, making sure there is still space in the dish (or the Brussels sprouts won't cook as well).
Bake in the preheated oven for 40 minutes.
Meanwhile, fill a big pot of water with water and bring to a boil.
When there is approximately 10 minutes left for the Brussels sprouts to bake, cook pasta according to package directions.
Drain pasta and add back to pot.
Add remaining 1 tbsp of oil, baked vegetables and salt to taste, and toss to mix well.
Serve topped with mung bean sprouts.
Sweet Salty Spicy http://sweetsaltyspicy.net/