Well it's been a long time! I haven't posted much this whole year. I've been on The Eczema Diet (could be considered an elimination diet) and honestly, I didn't feel like writing about it. But I did make a couple recipes I wanted to post and now is finally the time they are going to be published!
I've had eczema since I was born. It went away completely around the end of my bachelor degree and I was eczema free for a couple years. However, it came back with a vengeance around Christmas 2014 and got progressively worse until last fall, when I was literally covered in bright red, itchy eczema from head to toe. After lots of tears and tests, we finally found that I had developed an allergy to soy (hence all recipes on the blog became soy free). My eczema got better from not eating soy, but it was still pretty bad and not going away.
I stumbled on The Eczema Diet by Karen Fischer by accident. I just saw the book on amazon and thought I would buy it, maybe gather some tips. To my surprise when I got the book, it was not the pseudoscience based on anecdotal evidence I expected. It was actually a science-based comprehensive diet (as a PhD student, the science-based part was pretty important to me). Karen is a nutritionist, and when her daughter had eczema, she read the scientific literature and created the eczema diet, as well as a supplement. When I saw how well thought the diet was, I decided to follow it. I had good results with the diet from the book and I had even more progress after consulting with Karen (she is based in Australia, but does skype consults). Since my eczema was very severe, I am actually following a stricter version of the diet than the one from the book and I have great results.
I will do a complete review – with pictures – when I am more advanced in the stages of the diet. For now, I can say that if you have eczema and want to try and cure it, I recommend reading the book and trying the diet. There are also great tips on Karen's blog.
Since this diet is pretty restrictive, you do end up eating pretty much the same thing all the time – for months! I definitely can't create unique recipes like before, but sometimes I can make something different from my everyday eats and I do want to share them here, to help other people on the diet. And hey; they are still good recipes – you can make them in if you are not on the diet!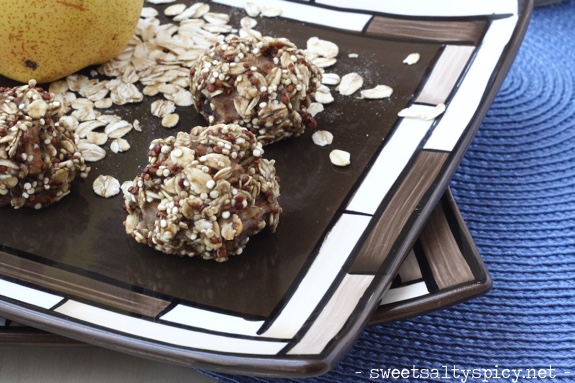 Today I am sharing a recipe for "cookies" that are super simple to make, and are a great snack or healthy dessert. I also made them when travelling earlier this year (I might make a post on how I still followed the diet while travelling for a conference – if that is something that would interest you, don't hesitate to tell me in the comments).
The cookies are sweet thanks to banana and pears, but don't have any added sugar (and no flour!). They are also crunchy thanks to the quinoa, but a bit moist because of the oats and fruit. I made a friend taste them and she loved them, even asking for the recipe!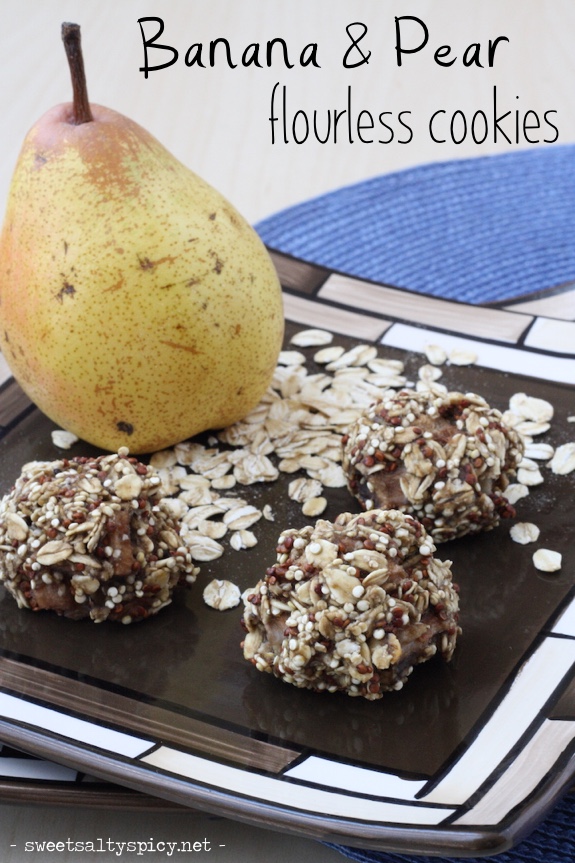 Banana & Pear Flourless Cookies
2016-07-11 01:01:58
Gluten-Free, Soy-Free, Nut-Free, Oil-Free, Low salicylate, The Eczema Diet friendly
Ingredients
2 ripe bananas
2 small ripe pears, peeled and diced
1 cup rolled oats
1/2 cup uncooked quinoa
Instructions
Preheat oven to 350°F and line a baking sheet with parchment paper.
Mash the bananas in a large bowl.
Add all other ingredients and mix to combine.
Form tablespoon balls (I use a round tbsp measure, can use your hands) and place on the cookie sheet. The cookies should keep their form, but they are fragile before baking. They can be close to each other as they won't expand.
Bake for 15 minutes and let cool on baking sheet.
Notes
Use certified gluten-free oats for a completely gluten-free recipe.
Suitable for all stages of the eczema diet, except if preparing for an amine challenge (because of bananas, which contain amines).
Sweet Salty Spicy http://sweetsaltyspicy.net/