I created Sweet Salty Spicy FOUR years ago (!) on August 13, 2010. Time passes by so quickly!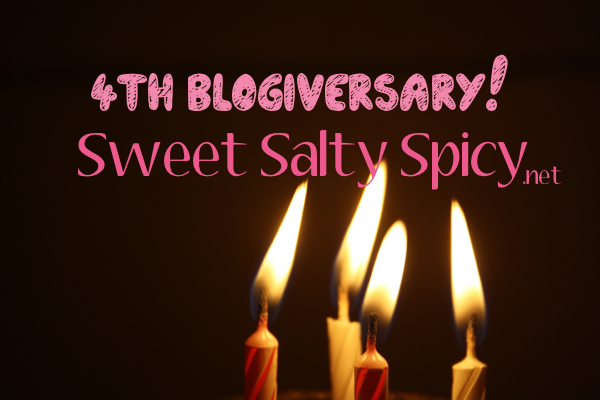 I actually mark the date every year and plan a recipe especially for that date. For the past three years, those recipes were quite delicious: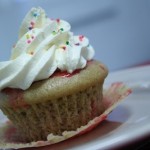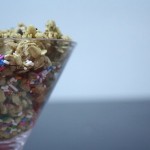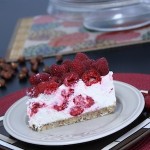 This year, I totally forgot not only to check the date, but also that there was such a thing as my blogiversary! If it wasn't for a calendar alert on my computer, I wouldn't have seen it pass by! I did have some awesome cupcakes waiting to be posted, so I was lucky enough to have a recipe for the occasion. Yay!
These cupcakes have a strong chocolate flavour and the Frangelico adds a nice subtle hazelnut touch (and we all know that chocolate and hazelnut are a perfect combo!)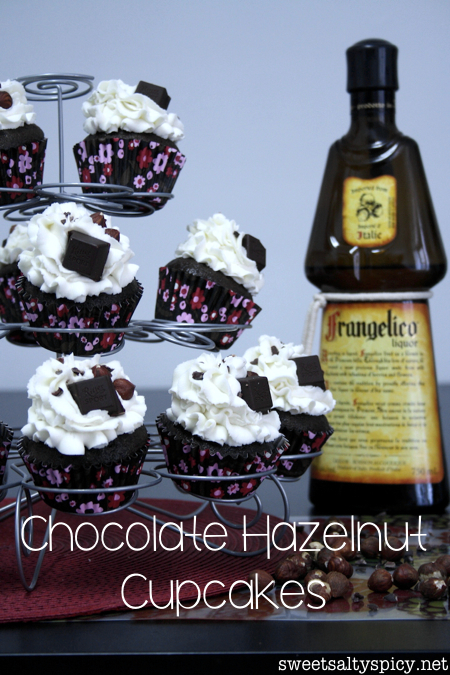 Chocolate Hazelnut Cupcakes
Adaptation of Vegan Chocolate Cupcakes, Oh She Glows
Ingredients:
1/2 cup non-dairy milk (I use almond)
1/2 cup Frangelico
3/4 cup golden cane sugar
1/3 cup light-tasting oil
1/2 tbsp apple cider vinegar
1/2 tbsp pure vanilla extract
1 1/2 cups unbleached all purpose flour
1/3 cup cocoa powder, sifted
1 tsp baking soda
3/4 tsp fine sea salt
1/4 tsp ground cinnamon
Frosting ingredients:
1/2 cup Earth Balance buttery spread
4 tbsp Frangelico
Pinch of salt
4 cups icing sugar
Decoration (optional):
Dark chocolate
Hazelnuts
Cacao nibs
Directions: Preheat oven to 350°F and line a muffin pan with cupcake liners. With an electric mixer, beat non-dairy milk, Frangelico, oil, sugar, apple cider vinegar and vanilla extract. Beat on medium speed for 1-2 minutes. In a medium bowl, mix flour, cocoa powder, baking soda, salt and cinnamon. Add to the liquid mixture and beat until all the clumps are gone.
Spoon the batter in the prepared cupcake pan, about 2/3 full for each. Bake for 22 minutes or until the cupcakes slowly spring back when pressed with a finger. Allow to cool completely before frosting.
For the frosting, beat the Earth Balance with an electric mixer. Mix in Frangelico and salt. Gradually add the icing sugar (1/2 to 1 cup at a time) and mix until fully combined. Continue mixing for 5 to 10 minutes until white and fluffy.
Makes 12 cupcakes