Today marks 3 years since I created Sweet Salty Spicy on August 13, 2010.
After three months of sharing recipes on my previous blog, I decided to make a new blog where I would share more about my life. While I do write longer posts about how I made recipes etc and sometimes share more than recipes… let's face it, I just ended up creating a new food blog. Which is not that surprising since what I really love is being in the kitchen and creating new recipes.
Not only is it great to see I am actually still blogging 3 years later, I am sometimes amazed when I look at my older posts at how much my writing, recipe creating skills and photography skills have all evolved in 3 years.
On the past two blogiversaries I've had, I have shared with you birthday-worthy recipes (Strawberry Jello Almond Cupcakes with Banana Pudding Frosting and Birthday Cake Granola) and today is no exception. I decided to make a cake and then organized a fondue dinner with friends because hey!; I am not going to eat a whole cake all by myself!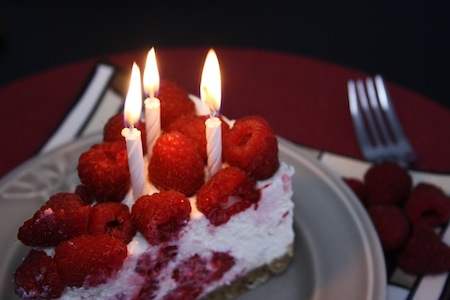 Why a No-Bake cheesecake? Well it's summer, and on sunny no-wind days, baking stuff just makes the hot apartment unbearable.
Why raspberries? Well summer = berry season.
Add some Frangelico and hazelnuts in the crust and you have a d-e-l-i-c-i-o-u-s cheesecake. Oh… and there is a little bit of hidden goat cheese for extra creaminess and flavor!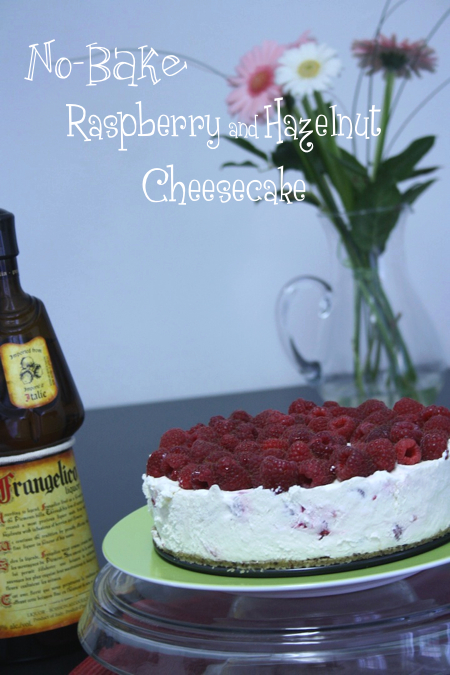 No-Bake Raspberry and Hazelnut Cheesecake
Adapted from Gâteau au Fromage à la crème and Raspberry Goat Cheese Cheesecake
Ingredients:
150g shortbread cookies
3/4 cup hazelnuts
1/4 cup butter, melted
500g (2 pkg) cream cheese, softened (leave 2 hours on the counter before starting)
1 small log (115g) soft unripened goat cheese
2 tbsp golden cane sugar
1/4 cup Frangelico
3 tsp unflavored gelatin
1 cup 35% whipping cream
4 cups raspberries, divided
Directions: Add shortbread cookies and hazelnuts in a food processor and process into crumbs. Mix with melted butter and then press into an 8-inch springform pan. Put the pan in the freezer so the crust can set while you prepare your filling.
In a large bowl, beat the cream cheese and goat cheese with a hand mixer. Beat in sugar.
In a small saucepan, add the Frangelico and sprinkle the gelatin on top. Let stand 5 minutes. Melt the gelatin on very low heat while stirring, then mix it in with the cheese.
Whip the cream, then beat it in with the cheese mixture.
Gently fold in 2 cups of raspberries.
Pour filling on top of the crust and smooth the top. Add the remaining 2 cups raspberries on top for garnish. Refrigerate overnight.
Serves 10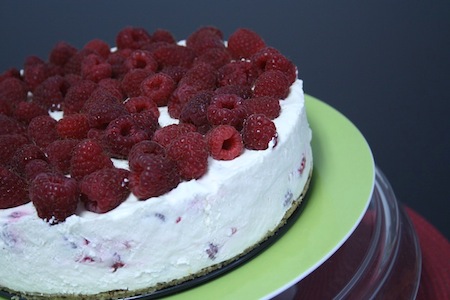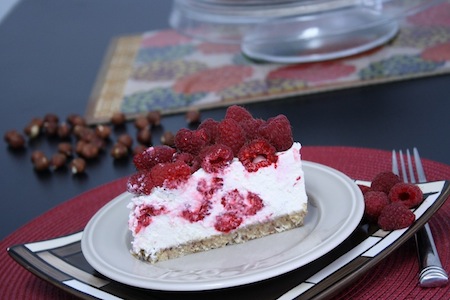 This cake is so good, but it is also very dense and filling so you don't need a lot to satisfy your taste buds. It is creamy and rich, the raspberries add some sweet juiciness and the crust is sweet, nutty and buttery. Perfect summer treat!