Yep, already 2 years. Time passes by so quickly!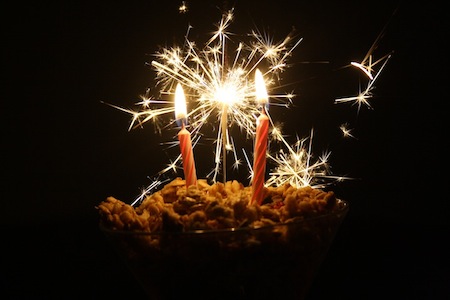 I have no idea what I thought I would end up doing with this blog when I posted for the first time. I didn't think long run, that's for sure. Now I'm thinking… where will this blog be in ten years? Will it still be there? Time will tell!
I learned a lot and a lot has changed in two years. I changed from blogger to self-hosted wordpress and designed my blog on my own in the process (lots of hours, but I was so proud after :)). I used to follow recipes to a T and now I invent my own. I discovered new ingredients, and I conquered yeast. I discovered tons of wonderful blogs.
Last year, I made cupcakes. This year… I had no idea what to make for this post. And then I thought, since what I made the most for this blog was granola, maybe I should make some granola. Yep… Birthday Cake Granola!
Birthday Cake Granola
Dry ingredients:
3 cups rolled oats
1 cup brown rice crisp cereal
1/4 cup wheat germ
1/4 cup raw buckwheat groats
2 tbsp flax seeds, grounded
2/3 cup boxed yellow cake mix
Wet ingredients:
3/4 cup marshmallow creme
1/4 cup coconut milk (full fat)
3 tbsp butter or earth balance
1/4 tsp pure vanilla extract
Add-ins:
1/4 cup rainbow vermicelli sprinkles
1 tbsp chocolate vermicelli sprinkles
1/4 cup mini chocolate chips
Directions:Preheat oven to 325°F and line a baking sheet with parchment paper. Mix all dry ingredient sin a large bowl. In a small saucepan, heat marshmallow creme, coconut milk and butter over low heat. Stir continuously until everything is melted and well combined. Remove from heat and stir in vanilla extract. Pour on dry ingredients and stir until well coated.
Spread the granola on the baking sheet and bake for 20-25 minutes, stirring after 10. Let cool completely on the baking sheet. Transfer to a large bowl and mix in sprinkles and chocolate chips. Store in an air-tight container.
Makes 6 cups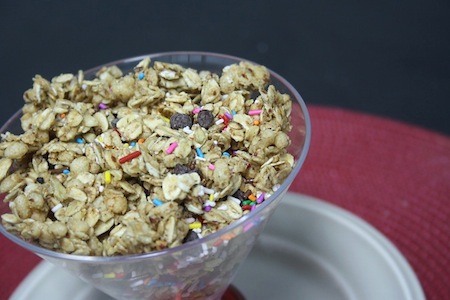 This is a perfect dessert granola! I love it mixed with a little yogurt! It really smelled like cake while it was baking :).
Have a great week!