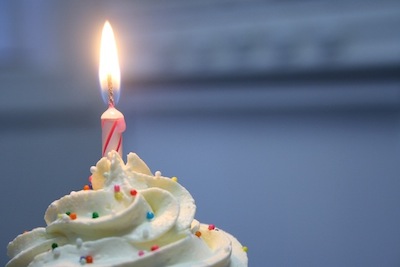 Yep, one year ago, Sweet Salty Spicy was born. And you should definitely check out the pasta dish that I shared to no one that day because it was quite tasty!
Of course, I had to write something today. But what? I first thought about sharing "facts you probably don't know about me", but didn't think of many interesting ones. In fact, I only thought about one.
Did you know…

I'm from Montreal. And there are many, many anglophones in Montreal. Which actually doesn't include me! I am french Canadian and very, very rarely speak in English. I'm actually very shy of speaking in English. So why do I blog in English? Simple: I started reading blogs in English, I certainly wasn't going to write one in French! And I never wrote in English except in English class… until one year ago. I did notice that my writing skills i English improved :).
Very interesting fact about me, I know! But hey, it is a couple lines, not a post! And then I realized… I have a great excuse to make – and eat – cupcakes. If my blog is so important to me, yummy desserts are a necessity on it's birthday!
I first had a total fail involving a hot kitchen and melting buttercream. But I won't tell you more about these cupcakes since I intend to make them again. I did not make them again for my blog's birthday because I didn't want to eat the same cupcakes two weeks in a row (they were edible ;)).
After a messy first attempt, I had to find a new idea and finally decided to go with something I've never had before: jello poke cake. I've never seen jello poke cake before entering the blog world. Now, I've seen it a couple times and I just had to try it. But what would I use for the frosting…
doesn't pudding make you think of jello too?

Strawberry Jello Almond Cupcakes with Banana Pudding Frosting
Adaptation of "Golden Vanilla Cupcakes", Vegan Cupcakes Take Over the World and "Fluffy Pudding Frosting", Kraft Foods
Ingredients:
1 cup soy milk (I used So Nice original)
1 tsp apple cider vinegar
1 1/4 cup unbleached all purpose flour
2 tbsp cornstarch
3/4 tsp baking powder
1/2 tsp baking soda
1/2 tsp fine sea salt
1/3 cup safflower (or canola) oil
3/4 cup organic cane sugar
1 1/2 tsp pure almond extract
1/2 tsp pure vanilla extract
1 package (85 g) strawberry jello
1 cup boiling water
Frosting:
1 cup cold milk
1/4 cup icing sugar
1 package (113 g) banana instant pudding
1 tub (1 L) frozen whipped topping, thawed
Directions: Preheat oven to 350°F and line a muffin pan with muffin liners. Mix milk and vinegar and set aside a few minutes. In a bowl, mix flour, cornstarch, baking powder, baking soda and salt with a whisk. In a second bowl, beat soy milk mixture, oil, sugar, almond extract and vanilla extract for 1-2 minutes with a hand mixer. Slowly add the dry ingredients and mix until well combined. Spoon the mixture in the prepared muffin pan and bake 20-22 minutes.
When the cupcakes are done, poke holes in them. You can make small holes with a toothpick (I used a cake sparkler!) or bigger holes with a fork or bamboo skewer. Let the cupcakes cook 5-10 minutes. Meanwhile, prepare the jello: in a bowl, pour the boiling water on the jello powder and stir until dissolved.
Slowly spoon the jello on the cupcakes. If you made small holes, use one 1 tbsp/cupcake (you won't use it all) and if you made big holes, use 1 1/2 tbsp/cupcake (you will use it all). Place in the fridge overnight and don't forget to place the frozen whipped topping in the fridge to thaw.
For the frosting, beat milk, icing sugar and pudding for 2 minutes with a hand mixer on low speed, then beat in the whipped topping. You will probably have more frosting than you need for 12 cupcakes.
Makes 12 cupcakes.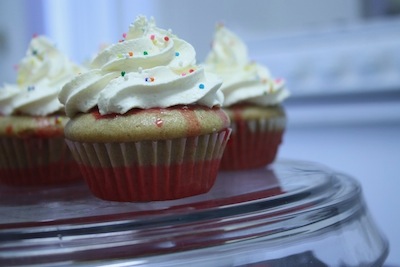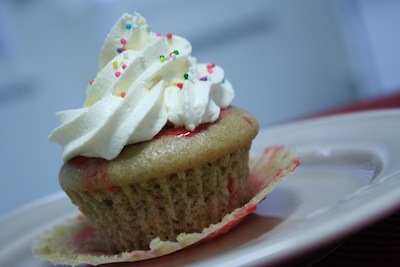 What describes these cupcakes the best is subtle: subtle almond flavor, subtle strawberry jello flavor and subtle banana pudding flavor. Combined into a yummy, addicting cupcake!
I especially love the frosting, which is fluffy and not-too-sweet.
Delicious birthday treat ;).