I love oat bars. They are tasty. And an easy snack. But let's face it, most store-bought oat bars are not that healthy. And the healthy ones are expensive. Making oat bars was always something I wanted to do, but I never got to it! Now, I wonder why…
Here is what happened: I wanted to make a special treat for a friend. I thought about what I knew she liked and all I could think about was that she eats oat bars all. the. time. Every day I see her, I see an oat bar. So I just HAD to make her oat bars. And since everyone loves chocolate, I'd definitely add some chopped chocolate in there. The rest was just what I had on hand ;).

Coconut, Applesauce & Dark Chocolate Chunk Oat Bars
Adaptation of Healthy Banana Cranberry Oat Bars, Oh She Glows
Ingredients:
1/4 cup milk (I used unsweetened almond milk)
1/2 cup unpacked brown sugar
1 tbsp flax seeds, grounded
1 tbsp chia seeds
1/4 cup coconut oil, melted
1 tsp pure vanilla extract
1/2 cup unsweetened applesauce
1 1/2 cups rolled oats
1/2 cup unsweetened shredded coconut
1/2 tsp grounded cinnamon
1/4 cup whole wheat flour
1/2 tsp baking powder
1/8 tsp fine sea salt
1/3 cup chopped dark chocolate (I used 85%)
Directions: Preheat oven to 350°F and line two bread pans with parchment paper (let some paper hang on the sides).
In a bowl, whisk almond milk, sugar, grounded flax, chia seeds, melted coconut oil, vanilla and applesauce together and set aside. In a second bowl, mix oats, coconut, cinnamon, flour, baking powder and salt. Add to the wet mixture and stir with a wooden spoon until combined. Stir in chopped chocolate.
Scoop half the batter in each bread pan. Smooth out and press down firmly with a spatula. Bake for 35-40 minutes, until the edges begin to get golden. Cool 10 minutes in the pans, then transfer to a wire rack (remove using the parchment paper hanging on the sides) to cool completely. Slice each half in four bars.
Makes 8 bars.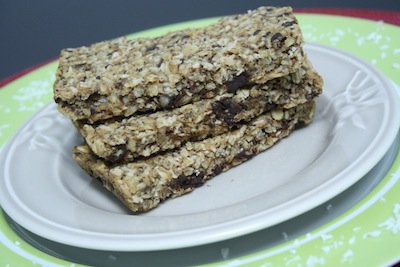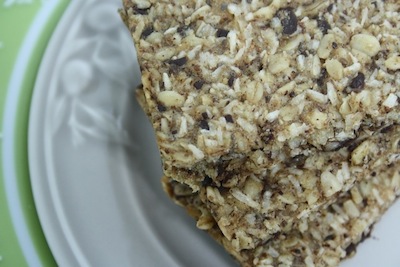 These bars were so easy to make! I will definitely make my own oat bars often from now on because they were also d-e-l-i-c-i-o-u-s. The applesauce is very subtle, the coconut is great combined to the apple and adds a yummy overall taste and the chocolate chunks are decadent!