When I made my Oat Bars, they were a special treat for a friend. Well, that day, I actually wanted to make a special treat for two friends! And the second friend has a thing for cookies :).
I was going through my cookie recipes trying to find inspiration and the one I kept coming back to was my Butterscotch Pudding Marshmallow Cookie Dough Balls recipe. I loved the idea of adding instant pudding to cookies before making them and I love the idea even more after I tasted the results!
So I ended up at the supermarket, in front of instant pudding boxes, trying to find inspiration from the flavors. Well, I didn't choose the most original pudding flavor! I chose vanilla pudding thinking I could use the butterscotch chips and pecans I had at home. –> Yummy combo.

Butterscotch Chip & Pecan Vanilla Pudding Cookies
Adaptation of Butterscotch Pudding Marshmallow Cookie Dough Balls
Ingredients:
2 1/2 cups unbleached all purpose flour
1 tsp baking soda
1/2 tsp fine sea salt
1 cup non-hydrogenated margarine, softened
1/2 cup unpacked brown sugar
1/4 cup golden cane sugar
1 pkg (102 g) vanilla instant pudding
2 flax eggs: mix 2 tbsp flax seeds, grounded, and 6 tbsp water
1/4 cup butterscotch chips
1/4 cup pecans, chopped
Directions: Preheat oven to 350°F and line a baking sheet with parchment paper. Prepare flax eggs and set aside.
In a medium bowl, mix flour, baking soda and salt. In a large bowl, beat sugars and earth balance with a hand mixer until creamy. Add the pudding mix, vanilla and flax eggs and mix until smooth. Add dry ingredients and mix until just combined. Mix in butterscotch chips and chopped pecans.
Make heaping tbsp balls of dough with your hands and place on the baking sheet. Bake for 10-12 minutes (they should be golden under).
Makes 28-30 cookies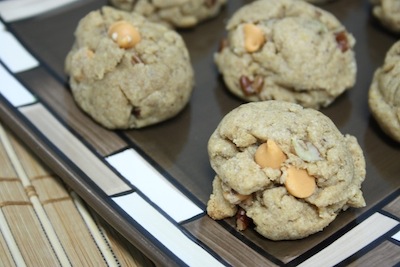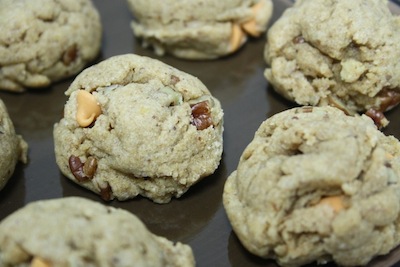 These cookies were delicious! The vanilla pudding adds a really great, subtle flavor and the butterscotch chips and pecans are a perfect compliment to go with that flavor. They are also a little crunchy on the outside and extra chewy on the inside!