A lot of my time is spent reading food blogs. All the recipes I see make me drool all day and inspire me in the kitchen. From time to time, I open my cookbooks to find some recipes I forgot about but really want to try. And now that we are in a technological smart-phone/tablet world, apps made their way into our lives. I have games, a weather app, a flashlight. But I never thought about food app. Never crossed my mind.
I realized food apps are something I could add to my list when I was asked to review a new food app for iPhone & iPad. Why not?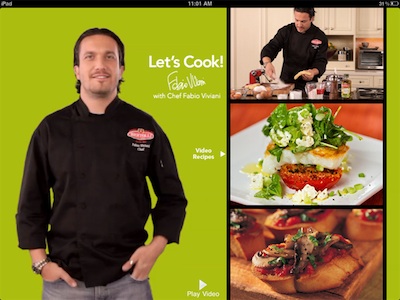 I thought Let's Cook!, with Fabio Viviani from Top Chef All Stars, was a great app. There is 16 video recipes and more than 100 written recipes. Most recipes have meat in them but there is also a vegetarian section (+ desserts), and some recipes that can be adapted too. Besides recipes, there is also a tips section (and I did learn from it!) and a section about olive oils.
Here are some recipes you can fin in each recipe section the app:
Chicken: Pine Nut-Crusted Chicken Parmesan
Soup, Salad & Sandwiches: Pear, Parmigiano & Pine Nut Salad
Appetizer: Caramelized Onion Focaccia
Pasta & Pizza: Pasta with Artichokes and Summer Tomatoes
Seafood & Fish: Shrimp Risotto with Arugula
Vegetarian: Savory Stuffed Artichokes
Beef & Pork: Braised Beef & Mushrooms in Cabernet Sauce
Dessert: Honey Orange Cake
I adapted a pasta dish from the app and it was a boyfriend-approved dinner ;):

Fresh Fettuccine with Oyster Mushrooms & Cherry Tomatoes
Adaptation of Fresh Fettuccine with Crispy Pancetta, Sautéed Mushroom and Cherry Tomato, Let's Cook! App ~ click here for original recipe
Ingredients:
2 cups cherry tomatoes, halved
2 tbsp extra virgin olive oil
salt and pepper to taste
1 slice veggie bacon, diced (optional)
2 tbsp grape seed oil (or other heat-resistant oil)
6 cloves garlic, pressed
1 package (85 g) oyster mushrooms, thinly sliced
1/2 cup vegetable broth, divided
1 1/2 servings (10-12 ounces) fresh fettuccine
2 tbsp chopped fresh parsley
Directions: Preheat oven to 475°F. Drizzle tomatoes with olive oil. Season with salt and fresh ground black pepper to taste. Arrange in baking pan and bake for 15 minutes. Bring a pot of water to a boil.
Cook veggie bacon with grape seed oil in a pan over medium-high heat it starts to brown. Season with fresh ground black pepper and a little salt. Reduce heat to medium, add garlic and mushrooms and cook until golden brown. Add roasted tomatoes and 1/4 cup broth to sauté pan. Reduce heat and simmer uncovered for 5-10 minutes.
Add fettuccine to boiling water and cook according to package directions.
Add cooked fettuccine to the pan and remaining broth. Increase heat to medium and drizzle with olive oil. Add parsley. Simmer 2 to 5 minutes.
Serves 2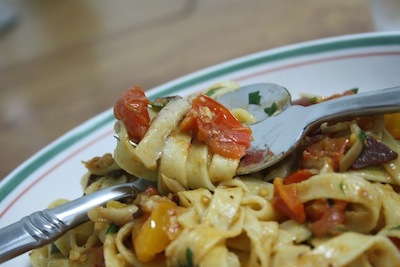 This dish was simple and delicious. I added the veggie bacon as optional because, even though it added some flavor and texture, it would still be amazing without it. Of course, you could also use regular bacon!
Olive Oil Giveaway
Since the app was made in partnership with Bertolli Olive Oil, I also received two 500 ml bottles of Bertolli Extra Virgin Olive Oil; one for me and one to giveaway.
You have until Sunday, Sept 18 11:59 PM EST to enter.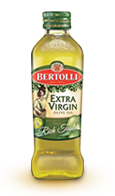 To enter, simply leave a comment!
For extra entries:
Follow me on twitter and comment saying that you did.
Follow me on facebook and comment back saying that you did.
Tweet the giveaway (Check out @sweetsaltyspicy's Let's Cook! App Review & Olive Oil Giveaway! http://goo.gl/GOEyP) and comment saying that you did.