They say a picture is worth a 1000 words.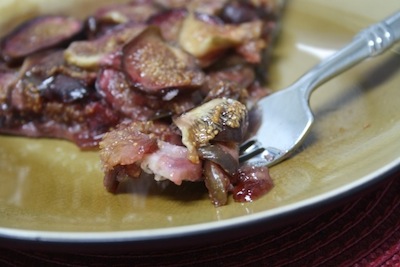 Well, this picture is telling me to lick my computer screen, hoping it will taste like pie.
Because I am sharing a pie today. And I no longer have pie. And this picture makes me want this pie again.
This pie was not an idea that popped into my head. It is an idea from a cookbook. And every time I opened that cookbook, I'd a fig pie and want to try it. But figs are expensive. I'd decide to wait until fig season, so I wouldn't empty my bank account on a pie. And then I would forget. And see the recipe again when fig season was long gone.
And this year… I didn't forget! It is fig season. And I made the pie. With a little more figs. And some maple syrup, because everything is better with maple syrup.
Oh… and did I mention it is a 4 ingredients recipe?!

Caramelized Fig Pie
Adaptation of "Tarte aux figues caramélisées", La cuisine des filles, Fleurus
Ingredients:
1 pie crust (thawed if frozen)
20 fresh figs, top cut off, thinly sliced
1/2 cup brown sugar
1 tbsp maple syrup
Directions: Preheat oven to 350°F. Slice figs and place in crust. Sprinkle evenly with the brown sugar. Bake for 25 minutes. Drizzle with maple syrup and bake for 5-10 minutes. There will be a lot of liquid in the pie – it is fine (pictures are from the day after).
Let cool a couple minutes and serve warm.
Serves 4-6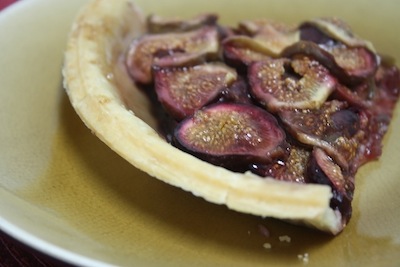 If you take the pie, and cut 4-6 slices, and serve to 4-6 people, the pie serves 4-6. But I do have to tell you – I made the pie when a friend came over and a lot of self control was needed not to eat the whole thing. We only ate 3/4 of the pie. And that was because I needed the last 1/4 for pictures ;).
It was an amazing dessert. And so easy! There is a lot of liquid from the fig, sugar and syrup but don't worry, it is delicious that way. You could even use the leftover syrup on pancakes the next morning. The crust absorbed some of the liquid and tasted so, so good. I am not a crust person, and I wished for more crust!
P.S. Don't forget to enter my olive oil giveaway!