I've been blogging for a little more than one year. And I've been reading blogs for a little more than that.
And while reading blogs, I saw baked doughnuts. And then I saw baked doughnuts again and again, and again, and again.
And every time I saw baked doughnuts on a blog, all I could think about was how I wanted to make some. And how I was in desperate need of doughnut pans. But these things are not easy to come by in a store! So one day, after seeing an other delicious-looking doughnut recipe, I ended up on amazon and bought two mini doughnut pans. Since I didn't want to pay for regular AND mini doughnut pans, I went with the mini, because mini things are just better. They're cute. And you can eat more (3 mini doughnuts = 1 doughnut?)
When I received the pans, I made doughnuts something ugly and disgusting. But take two was way, way better!

Mini Doughnuts for Big Kids
Adaptation of "Miniature Baked Doughnuts", Vegan Yum Yum cookbook, Lauren Ulm
Ingredients:
 1 cup + 1/2 tbsp unbleached all purpose flour
1/2 cup golden cane sugar
1 1/2 tsp baking powder
1/4 tsp fine sea salt
1/4 scant tsp ground nutmeg
1 small pinch or shake ground cinnamon
1/2 cup chocolate almond milk (or any flavor of soy/almond milk, but chocolate tasted a-m-a-z-i-n-g)
1/2 tsp apple cider vinegar
1/2 tsp pure vanilla extract
1/4 scant cup unsweetened applesauce
4 tbsp earth balance (or other non hydrogenated margarine, butter might work)
Glaze:
1/2 cup powdered sugar
1 tbsp chocolate almond milk (or any milk)
1 small pinch of shake ground cinnamon
sprinkles
Directions: Preheat oven to 350°F. In a large bowl, combine flour, sugar, baking powder, salt, nutmeg and cinnamon with a whisk. In a small saucepan over medium-low heat, combine milk, cider vinegar, vanilla, applesauce and margarine. Heat until the margarine is melted and remove from heat immediately. The mixture should not be too hot; you should be able to stick your finger in the mixture and feel slightly warm. If it is too hot, let cool a little.
Add the wet ingredients to dry ingredients and mix with a wooden spoon or spatula until just combined. Transfer the batter to a ziploc bag (or pastry bag) and cut the corner. Pipe the batter in the holes of a doughnut pan. It should be a little bellow the rim (about 2-3 mm). Bake for 14-16 minutes, until a toothpick comes out clean. Let cool 5 minutes, then use a butter knife to remove the doughnuts form the pan and transfer to a cooling rack. Let cool completely before making the glaze.
When you are ready to glaze the doughnuts, place some parchment paper under the cooling rack and pour some sprinkles in a small bowl. Whisk powdered sugar, cinnamon and milk together. Dip The "bottom half" (the side with the better shape) in the glaze, let some drip off, then dip in the sprinkles. Put back on the cooling rack to set.
Doughnuts keep for 3-4 days in an air-tight container.
Makes 26-28 mini doughnuts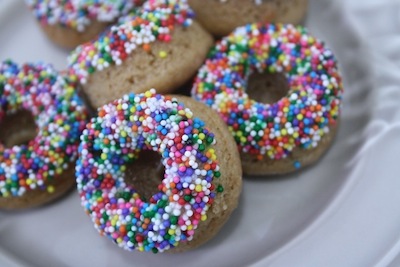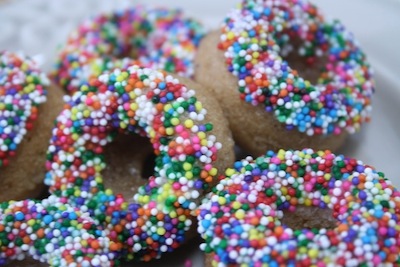 These doughnuts were extra-moist, which was nice in contrast with the crunchy sprinkles. I wasn't sure about the chocolate almond milk and I used it because it's all I had, but I'm glad I did because the doughnuts were delicious. They didn't have a specific taste, but the mix of almond, chocolate, vanilla, apple, nutmeg and cinnamon ended in a great can't-stop-eating-them batch of doughnuts!
And who doesn't love sprinkles?
Olive Oil Giveaway Winner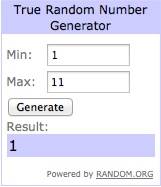 The winner of the giveaway was Carolyn from All Day I Dream About Food!
Thanks to all the readers who entered.
Have a great week!