Banana bread is an awesome baked good to make. It is easy, perfect if you have extra ripe bananas to use up, and it is a sweet treat that doesn't need much sugar since the bananas are a great sweetener. Oats bring out the sweetness in recipes and also allow to use less sugar. Following The Eczema Diet doesn't mean you can't have banana bread! I only had to very slightly adapt my previous banana bread recipe to make this recipe The Eczema Diet-friendly.
Make sure your bananas are really ripe; there should be more black than yellow. That's the secret to a good banana bread! This one is really easy to make, and is vegan, nut-free, soy-free and oil-free! It has pear for extra flavour, but if you want a plain banana bread, or don't have ripe pears, it is also good without the pear.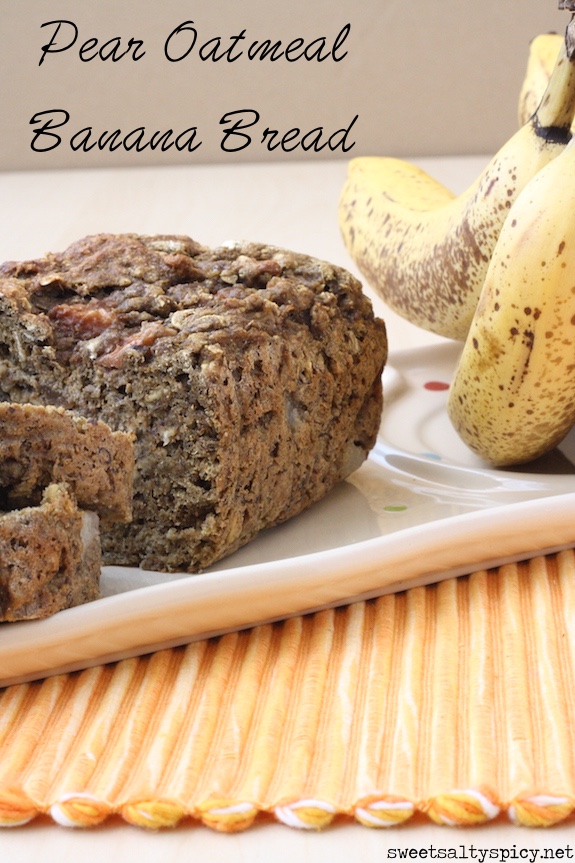 Pear Oatmeal Banana Bread
2017-04-02 19:26:02
vegan, oil-free, nut-free, soy-free, The Eczema Diet-Friendly
Ingredients
1 tbsp flax seeds
1 cup whole spelt flour
3/4 cup rolled oats
1/3 cup maple sugar
2 1/2 tsp baking powder
1 tsp baking soda
1/2 tsp fine sea salt
3 very ripe bananas
1/2 tsp pure vanilla extract
1 ripe pear, peeled and diced
Instructions
Preheat oven to 350°F and line a glass bread pan with parchment paper.
Make a flax egg: grind the flax seeds and mix with 3 tbsp water. Set aside until gelatinous.
In a medium-sized bowl, mix flour, oats, sugar, baking powder, baking soda and salt with a whisk.
In a small bowl, mash bananas. Mix in the vanilla and flax egg.
Add the mashed banana mixture to the flour mixture and mix with a spoon until combined. Stir in peeled and diced pear.
Transfer mixture to the prepared bread pan and bake for 1 hour.
Notes
If you are not extremely sensitive to salicylates, raw cane sugar (medium salicylates) can be used instead of maple sugar.
Adapted from Raisin Oatmeal Banana Bread
Sweet Salty Spicy http://sweetsaltyspicy.net/