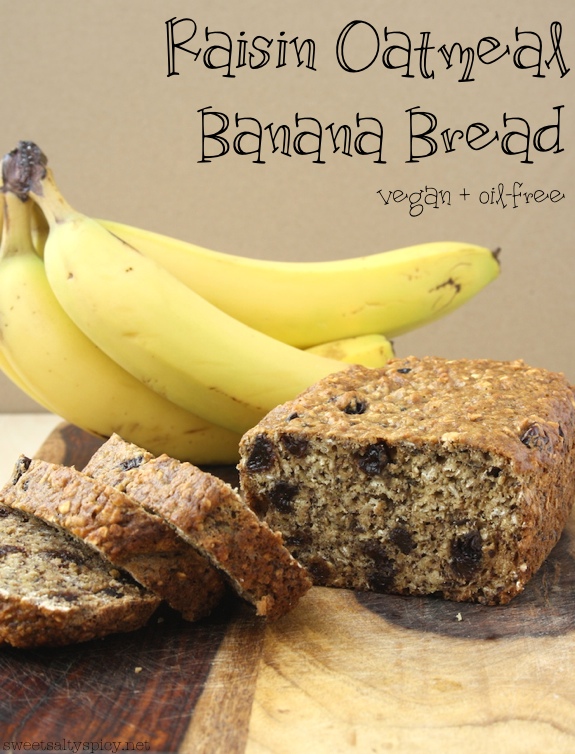 After a moment of inattention at the grocery store, I got home with an enormous bag of quick oats instead of my regular oats. I usually buy regular or extra-thick oats because I use them a lot for my homemade granola and like to have texture in my oatmeal. Instead of returning it (which I never do), I decided to experiment using the quick oats in my baking.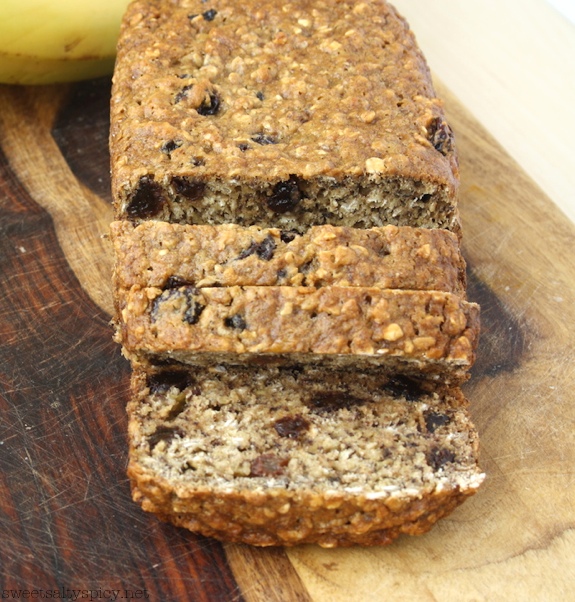 Because I often make banana bread when I have extra-ripe black juicy bananas, I decided to make an oatmeal banana bread and experimented with my usual recipe to get the perfect sweetness (oats make baked goods sweeter), texture and leavening.
I really love this version of banana bread as it has more texture than my regular one, and the oats give a nice nutty flavour. I make them with raisins for a healthier snack, but I also add chocolate chips instead sometimes and that yields a decadent treat.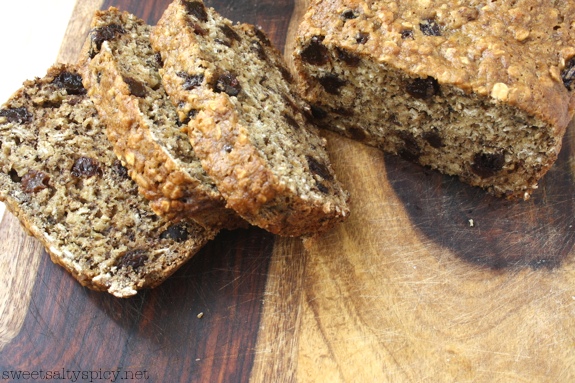 Raisin Oatmeal Banana Bread
2015-01-05 15:28:58
vegan, oil-free, soy-free, nut-free
Ingredients
1 tbsp flax seeds
1 cup spelt flour
3/4 cup quick oats
1/3 cup golden cane sugar
2 1/2 tsp baking powder
1 tsp baking soda
1/2 tsp fine sea salt
3 very ripe (almost all black) bananas
1/2 tsp pure vanilla extract
1/2 cup raisins (or chocolate chips!)
Instructions
Preheat oven to 350°F and line a glass bread pan with parchment paper.
Make a flax egg: grind the tbsp of flax seeds and mix with 3 tbsp of water. Set aside and it will get gelatinous.
In a medium-sized bowl, mix flour, oats, sugar, baking powder, baking soda and salt with a whisk.
In a small bowl, mash the bananas. Mix in the vanilla and flax egg.
Add the mashed banana mixture to the flour mixture and mix with a spoon until combined. Stir in raisins.
Transfer the mixture to the prepared bread pan and bake for 1 hour.
Let the bread cool in the pan (or eat it right away!).
Adapted from Moist Banana Bread
Sweet Salty Spicy http://sweetsaltyspicy.net/