The holidays are a big time for potlucks! With lots of food sensitivities, I end up eating only the things I bring to the potluck, but I also like bringing something delicious, thus showing people I still eat tasty food :). This holiday season however, I realized I hadn't made cold recipes in a long time – so I had to invent one I could have!
Since starting The Eczema Diet, I did have cold meals – mostly beans and rice or beans and quinoa. A but boring, but still delicious. However, since I found that I react to rice and was not eating quinoa in order to test whether I was reacting to it, I had to make something entirely new – and I wanted something flavorful and original.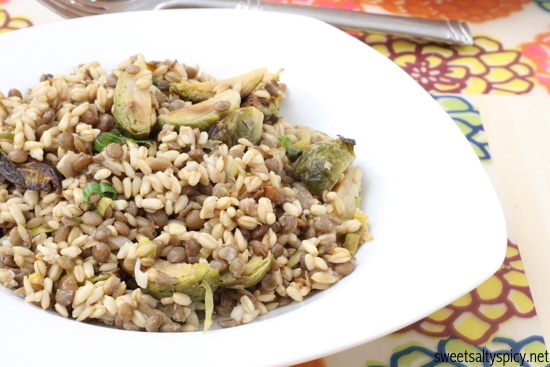 I decided to make a salad with oat groats since it is a grain I love but that I find not many people use. Roasted Brussels sprouts were a no brainer since I had been loving those for several months now – roasting veggies seems to make them so much tastier!
The result was an extra flavorful, filling salad – perfect for a complete meal for myself, and a big hit with other people. This salad is definitely ideal for quick meals throughout the week, and to bring to work or school for lunch.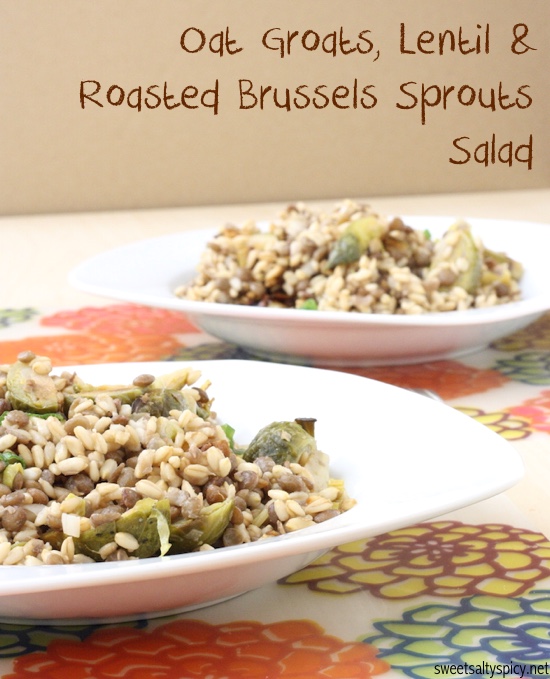 Oat Groats, Lentil & Roasted Brussels Sprouts Salad
2017-01-15 20:18:26
Serves 6
Vegan, Gluten-Free, Soy-Free, Nut-Free, Low Salicylate, The Eczema Diet-friendly
Ingredients
1 1/2 cups oat groats (see note)
1 cup brown lentils
650g Brussels Sprouts, quartered
1 leek, sliced lengthwise, then chopped in 1/4 inch slices
1 1/2 tbsp virgin sunflower oil or rice bran oil
1/4 tsp garlic powder (no additives)
2 green onions, green parts only, finely sliced
3 tsp flax oil
salt to taste
Instructions
Preheat oven to 425°F.
Add oat groats to a pot full of water. Bring to a boil, reduce heat, cover and cook for 45-50 minutes. Drain.
Add lentils to a pot with 3 cups of water. Bring to a boil, reduce heat, cover and cook for 30 minutes. Remove from heat and keep covered until oat groats are ready. If there is some water left, drain.
Add Brussels sprouts, leeks, sunflower or rice bran oil, garlic powder and a couple pinches of salt to a big oven-safe casserole dish. Mix well. Cover with a lid or aluminum paper and bake at 425°F for 35-40 minutes.
When oat groats, lentils and Brussels sprouts are ready, transfer to a bowl. Let cool until room temperature (or close). Add green onions, flax oil and salt to taste and mix.
Notes
Oat groats are whole oat grains. You can usually find them in the grain section, or the organic section at the supermarket. Use certified gluten-free if you are avoiding gluten. If you can't find them, hulled barley (contains gluten) or brown rice would work great.
Use more sunflower oil if you can't have flax.
The salad is good at room temperature and cold.
Sweet Salty Spicy http://sweetsaltyspicy.net/