After getting a waffle iron for Christmas, I started making waffles like a crazy person, having them once or twice a day. My favorite recipe was from Minimalist Baker – buttery, sweet, crisp waffles to which I added chocolate chips and would eat as is, without syrup or anything. Obviously, those waffles were not going to be part of my diet anymore when I started The Eczema Diet.
Still, that doesn't mean I can't use my waffle iron! It just means I had to make waffles with ingredients I could use on the diet. And since buckwheat is recommended on the diet, and delicious in waffles and crepes, I was definitely going to have buckwheat waffles! Although I would not eat these every day, they are a great occasional treat.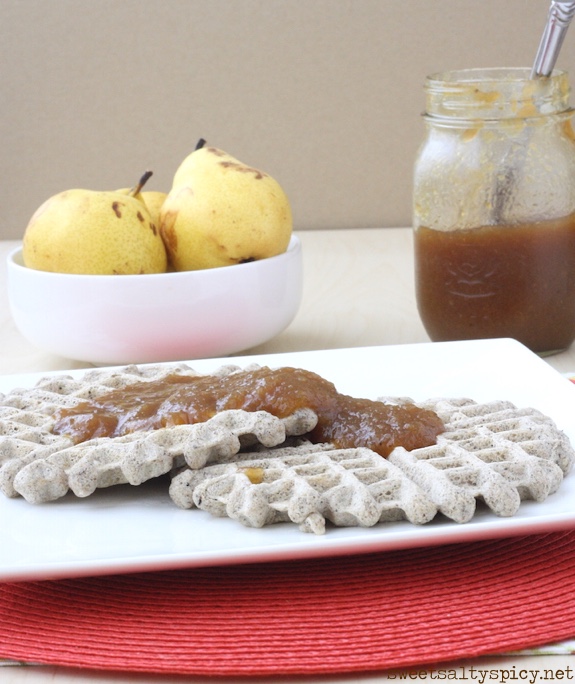 I like these waffles with two The Eczema Diet friendly toppings:
Banana carob spread from The Eczema Diet book (mashed banana with carob powder… I don't add any sweetener to this spread and I like to add a bit of flax oil). I use one banana for one batch of waffles.
Pear compote (pictured): I made Karen's Pear and Vanilla Jam without the jamsetta/pectin and puréed it with a hand blender – it is a-m-a-z-i-n-g! I could eat this compote by the spoonful but I made myself keep it for the waffles. With one recipe, I had enough for four batches of waffles.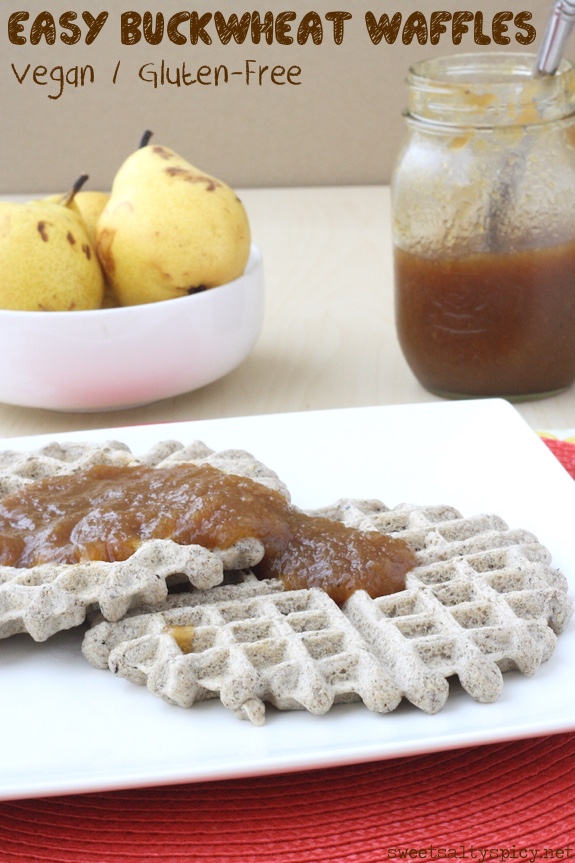 Easy Buckwheat Waffles
2016-07-17 20:21:01
Vegan, Gluten-Free, Soy-Free, Nut-Free, Oil-Free, Low salicylate, The Eczema Diet friendly
Ingredients
1/3 cup buckwheat flour (dark/black)
2 tbsp brown rice flour
2 tbsp rolled oats
1 tsp baking powder
dash of fine sea salt
1/2 cup + 2 tbsp filtered water
Instructions
Mix buckwheat flour, brown rice flour, oats, baking powder and salt.
Add water and mix until combined.
Let set while your waffle iron preheats. Cook according to manufacturer instructions.
Serve immediately with desired toppings.
Notes
For gluten-free recipe, use certified gluten-free oats.
Suitable for all stages of The Eczema Diet.
Sweet Salty Spicy http://sweetsaltyspicy.net/