I love adding veggies to "unhealthy" recipes. Then, you can eat it and tell yourself you're eating healthy. And there's nothing better than healthy mac n' cheese. Delicious, comforting, but still full of good vitamins.
Inspired by my pumpkin mac n' cheese (delicious), I decided to experiment more with healthier mac n' cheese recipes. One was a total disaster. And then I made this one: creamy perfection.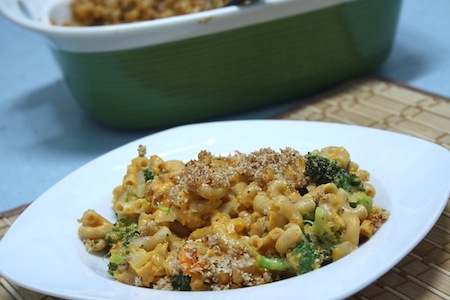 Carrot & Broccoli Mac n' Cheese
Adaptation of Baked Pumpkin Mac & Cheese
Ingredients:
 7 carrots, peeled and coarsely chopped
1 broccoli, in small florets
1 tbsp olive oil
1 white onion, chopped
1 package (375 g) whole wheat elbow macaroni
2 slices of bread (I used sprouted bread)
2 tbsp softened butter or non-hydrogenated margarine, divided
1 tbsp flour
1 1/4 cup warm milk (I used 1%)
1/2 package Maclaren's Imperial Sharp Cold Pack Cheddar
1/4 cup grated parmesan
1/2 tsp dry yellow mustard
1 tsp salted herbs, or salt to taste
Paprika
Directions: Bring a pot of water to a boil. Add carrots and cook until tender. Remove carrots with a slotted spoon and place in a bowl. Add broccoli to the water and cook for 1-2 minutes until crisp-tender. Mash or puree the carrots (it is fine if there's a few chunks) and set aside.
Heat olive oil in a skillet over medium heat. Cook onion until translucent. Remove from heat and set aside.
Bring a big pot of water to a boil and cook macaroni according to package directions.
Meanwhile, process the two slices of bread in a food processor until coarse crumbs start to form. Add 1 tbsp softened butter and process until combined. Set aside.
In a large saucepan, melt remaining 1 tbsp of butter over medium heat. Add flour and stir with a whisk until it starts to bubble. Gradually whisk in milk, then stir constantly until the sauce starts to thicken, about 5 minutes. Add both cheeses and stir until completely melted. Stir in mashed carrots, dry mustard and salted herbs. Toss the drained macaroni, the broccoli florets and the cooked onions in the sauce.
Preheat oven to 350°F. Transfer macaroni in a 2.5 quart casserole dish. Top with bread crumbs and sprinkle with paprika. Bake for 30 minutes.
Serves 5-6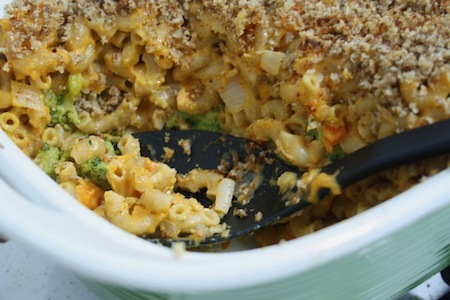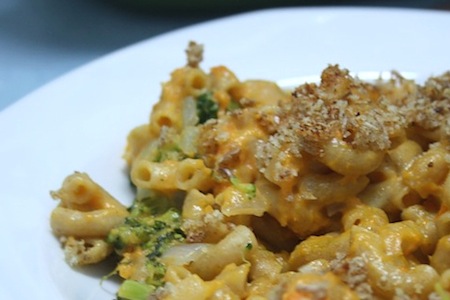 This mac n' cheese was a perfect comforting winter dinner. The sauce is extra creamy and the carrots add a little sweetness to the cheesiness. I absolutely love broccoli & cheese so it was a great combination for me.
By leaving out the broccoli, this could also be a great dish for picky eaters ;).