Hello comfort food.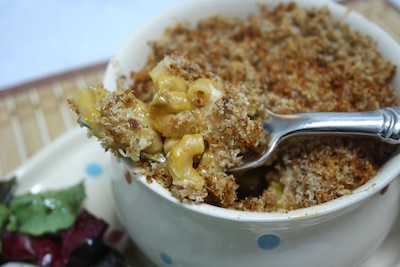 If you want to hide vegetables from your kids. Or from yourself. Or from your husband. Make this now. Because it's mac & cheese, with veggies… and it tastes even BETTER than regular mac & cheese!
Comfort food made healthier? I'm in!
How did I think of this awesome meal?
Sometimes, I buy Annie's mac & cheese so I can have a quick dinner on hand. When I make it, I try to add something to make it into a "real meal". Once, I added pumpkin puree and sauteed onion. It was soooo good! I had to make a homemade mac & cheese with pumpkin puree!
P.S. I tried something else with Annie's mac & cheese that was sooo good I have to make it into a homemade mac & cheese ;).

Baked Pumpkin Mac & Cheese
Adaptation of Easy Baked Mac & Cheese
Ingredients:
1 tbsp olive oil
1 white onion, chopped
1 package (375 g) whole wheat elbow macaroni
2 slices of bread (I used sprouted whole wheat)
3 tbsp softened butter (or non-hydrogenated margarine), divided
1 tbsp flour (I used whole wheat)
1 cup warm milk (I used 1%)
1/2 package Maclaren's Imperial Sharp Cold Pack Cheddar
2/3 cup pumpkin puree
1/8 tsp ground nutmeg
1 tsp salted herbs, or salt to taste
1/2 cup shredded cheese of your choice (I used Oka Classique)
Paprika
Directions: Heat olive oil in a skillet over medium heat. Cook onion until it starts to brown. Remove from heat and set aside.
Bring a big pot of water to a boil and cook macaroni according to package instructions.
Meanwhile, process the two slices of bread in a food processor until coarse crumbs start to form. Add 2 tbsp softened butter and process until combined. Set aside.
In a large saucepan, melt remaining 1 tbsp butter over medium heat. Add flour and stir with a whisk until it starts to bubble. Whisk in milk, then stir constantly until sauce begins to thicken, about 5 minutes.
Add cheese and stir until completely melted. Add pumpkin, nutmeg and salted herbs. Toss the drained macaroni and cooked onions in the sauce.
Preheat oven to 350°F. Transfer macaroni 4 individual baking dishes. Top with shredded cheese, then with bread crumbs and sprinkle with paprika. Bake for 30 minutes and serve immediately.
Serves 4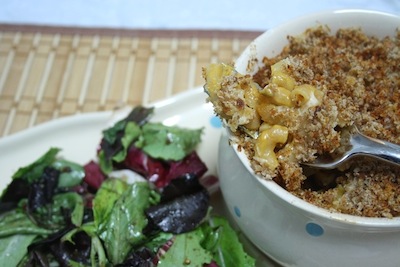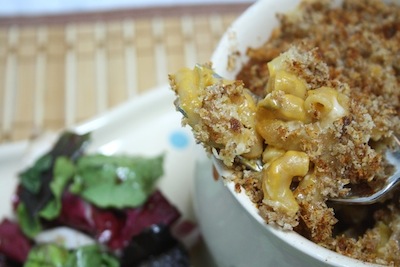 I made this recipe for girl's night at my place. On Thursday. On Monday, I was making it again (all for me :D). This mac & cheese is addictive.
If you already have a favorite mac & cheese recipe, just add some pumpkin and onion next time you make it ;).