According to Wikipedia, Valentine's Day is  "an occasion in which lovers expressed their love for each other by presenting flowers, offering confectionery, and sending greeting cards (known as "valentines")".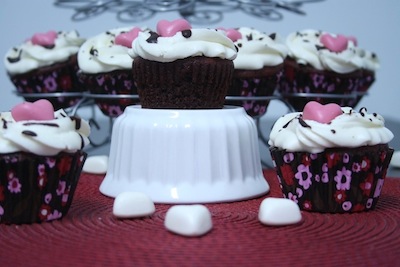 Well, my definition of Valentine's Day is an occasion to celebrate love. And love is not synonym of lovers. Love is present in our relationships with friends and relatives… even in our relationships with our pets ;).
So let's celebrate love in all its forms!
And I decided to do this by making cupcakes. And giving them to my friends today.

Red Velvet Cupcakes with Cream Cheese Frosting
Adaptation of Vegan Chocolate Cupcakes, Oh She Glows
Ingredients:
1 1/2 cups unbleached all purpose flour
1/4 cup lightly packed cocoa powder
1 tsp baking soda
1/2 tsp fine sea salt
1 cup milk (I used unsweetened almond)
1 cup golden cane sugar
1/3 cup canola oil
1 tbsp cider vinegar
1 tsp pure vanilla extract
1/2 tbsp red food coloring
Frosting:
1/2 cup earth balance (or butter), softened
1/2 cup cream cheese (vegan or regular)
1 tbsp milk (I used unsweetened almond)
1 tsp pure vanilla extract
4 cups icing sugar
Directions: Preheat oven to 350°F and line a muffin pan with cupcake liners. In a medium bowl, mix flour, cocoa powder, baking soda and salt with a whisk.
In a second bowl, beat the milk, sugar, oil, vinegar, vanilla and food coloring with an electric mixer on low speed. Add the dry ingredients and mix until combined.
Fill the cupcake liners 2/3 full and bake for 22-25 minutes, until the cupcake slowly springs back when pressed with a finger. Transfer to a cooling rack and let cool completely before frosting.
To make the frosting, beat the earth balance/butter and the cream cheese until combined. Beat in the milk and vanilla. Add the icing sugar in 1/2 cup batches. When all the sugar is added, beat for 5 more minutes, or until the frosting is white.
I frosted the cupcakes with a pastry bag and 2D tip and made a rose by swirling inside-out. I decorated with chocolate ganache and heart candies.
Makes 12 cupcakes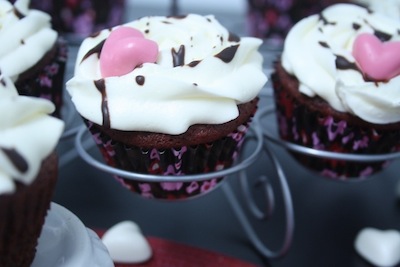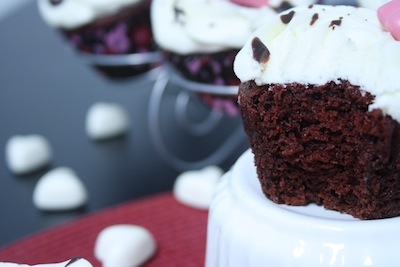 Delicious cupcakes to show your love to someone ;).