Last week: final exams.
This week: after sleep, the first thing I really wanted to do was to go in my kitchen and make something special. Make cupcakes. Because I loooove to make cupcakes. And I deserve a nice treat :).
I opened my newly acquired (aka acquired a couple months ago but never used it) Vegan Cupcakes Take Over the World cookbook to find a cupcake I wanted to make. I saw the picture. I drooled. I wanted to make these. Banana Split Cupcakes it was.
See what I mean?

Banana Split Cupcakes
Light adaptation of "Banana Split Cupcakes", Vegan Cupcakes Take Over the World
Ingredients:
Cupcake:
1/2 cup pineapple jam or preserves (I used pineapple & mango jam)
1 1/4 cups unbleached all purpose flour
1/4 tsp baking soda
1 tsp baking powder
1/2 tsp fine sea salt
3/4 cup golden cane sugar
1/2 cup

well mashed

very ripe

banana (I used 2 small bananas)
1/3 cup safflower (or canola) oil
2/3 cup milk (I used unsweetened vanilla almond milk)
1 1/2 tsp pure vanilla extract
1/2 tsp pure almond extract
1/4 cup finely chopped dark chocolate
Chocolate Ganache:
1/8 cup milk (I used unsweetened vanilla almond milk)
2 ounces dark chocolate, chopped
1 tbsp pure maple syrup
Buttercream:
1/2 cup earth balance or butter
2 tbsp milk (I used almond milk)
1 tsp pure vanilla extract
1/2 tsp fine sea salt
3 cups icing sugar
Toppings:
1/8 cup chopped walnuts
Rainbow sprinkles
6 maraschino cherries, cut in half
Directions: Preheat oven to 350°F and line a muffin pan with paper liners. In a small saucepan, stir pineapple jam over low heat until melted. Remove from heat and set aside.
In a large bowl, stir the flour, baking powder, baking soda, salt and sugar with a whisk. In a second bowl, whisk mashed banana, oil, milk, vanilla and almond extract. Add wet ingredients to dry ingredients and mix with a wooden spoon until just combined.
Fill liners 2/3 full. Top the batter of each cupcake with the pineapple jam (about 1 tsp each) and the chopped chocolate (about 1/2 tsp each). With a small knife, stir each cupcake a couple times to swirl in  the jam and chocolate. Bake for 20-25 minutes, until a toothpick inserted in the middle of a cupcake comes out clean. Cool completely on a wire rack before frosting.
When ready to frost the cupcakes, start by making the chocolate ganache. In a small saucepan, heat the milk over medium heat until it starts to simmer. Remove from heat and stir in the chopped chocolate and maple syrup until well combined. Set aside at room temperature while you make the buttercream.
To make the buttercream, beat the butter or earth balance with a hand mixer (or a stand mixer if you have one). Mix in the milk, vanilla and salt, then add the sugar 1/4 cup at a time. When all the sugar is incorporated, mix for 5-10 more minutes (the frosting will get extra fluffy).
To assemble the cupcakes, top them with the buttercream. I used a pastry bag with a large star (1M) tip. Drizzle the cooled ganache on top of the buttercream, then sprinkle with the chopped nuts and sprinkles. Top each cupcake with 1/2 a cherry.
Makes 12 cupcakes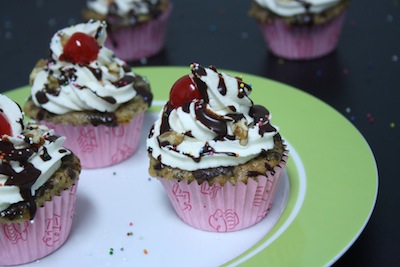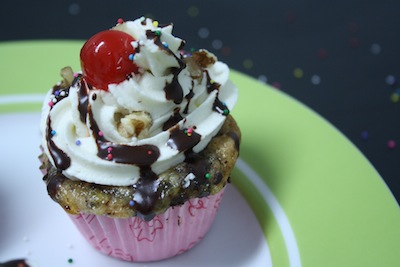 If you want an extra-sweet treat, this is the one! The banana cake is delicious, and the jam on top adds an extra burst of flavor. Buttercream is my favorite frosting and I always use this recipe to make it. I've made it with earth balance and with butter a couple times and both give great results.
But what I love most about these cupcakes is how good they look. If only they could stay good forever, I'd keep one as a souvenir…
At least I have pictures ;).
Non-cupcake related talk…
Last week, I had a great surprise waiting for me in my inbox. The Fairy Hobmother visited my blog and granted me an Amazon.ca gift card! Never heard of the Fairy Hobmother? She visits blogs and leaves gifts to reward hard working bloggers! And she might visit one of the readers that leave a comment on this post (hint, hint ;))