I made my Lemon Cupcakes for a girl's night. And a must-have when I have people coming at my place is also crudites with a homemade dip.
I'm known for being the one who cooks a lot, who loves to cook, who makes delicious food, who has a food blog… So there is no way I invite people over and serve them a store-bought dip ;).
Or any store-bought precessed food for that matter (obviously, some things, like the vegetables, have to be store-bought :P).
Last time I hosted a "party" was last summer and I made my Garlicky Creamy Spinach Dip. This time, I wanted to make a more "regular" smooth vegetable dip. And since when I buy dips for myself, I love the yogurt-based ones (my favorite is Renée's Peppercorn Ranch), I decided to use greek yogurt to make it.

Greek Yogurt Onion Vegetable Dip
Adaptation of Fresh Vegetable Dip, Taste of Home
Ingredients:
1 egg yolk
1 tbsp dijon mustard
1 tsp lime juice
3/4 to 1 cup canola oil (or other light-tasting oil, like grapeseed, safflower…)
1 cup plain greek yogurt
Dash Worcestershire sauce
1 tbsp onion powder
1 tsp dill weed
1 tsp dried parsley flakes
1/2 tsp garlic powder
1 tsp salt
Freshly ground black pepper to taste
Directions: Whisk the egg yolk with the mustard, then add the lime juice. Slowly pour in the oil while whisking continuously, until you have a thick and creamy mayonnaise. Mix in the greek yogurt, then add the Worcestershire sauce and spices. Chill at least 1 hour, ideally overnight. Keep covered in the refrigerator.
Yields approximately 2 cups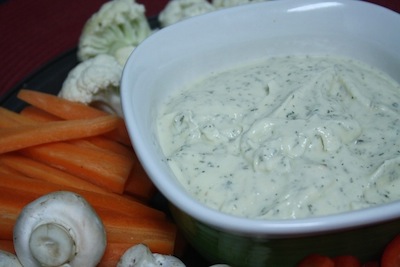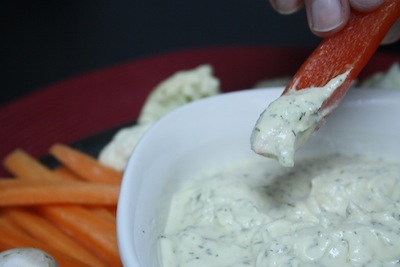 I love onion dips and this one is no exception. The yogurt made it extra creamy and refreshing. Definitely a keeper for  healthy snack.