Last holiday season, sometime between Christmas and New Year's, I made cupcakes. Carrot cupcakes. Deliciiious carrot cupcakes.
This weekend, I was hosting a girl's night at my place and made 2 batches of cupcakes, one of which was my deliciiious carrot cupcakes. Well… two horrible carrot cupcake batches later (this is why you have to write what you do in the kitchen, even when you're not at home!), and not much time left on the clock, made me improvise with what I had on hand.
A look in my baked goods goodies basket was the solution: lemon extract.
Oh… and the fact that I love anything dessert + lemon.
Lemon cupcakes it was.

Sweet Lemon Cupcakes with Cream Cheese Frosting
Adaptation of "Golden Vanilla Cupcakes", Vegan Cupcakes Take Over the World
Ingredients:
1 cup milk (I used unsweetened almond)
1 tsp lemon juice
1 1/4 cups unbleached all-purpose flour
2 tbsp cornstarch
3/4 tsp baking powder
1/2 tsp baking soda
1/2 tsp fine sea salt
1/3 cup canola oil
3/4 cup golden cane sugar
Zest of 1/2 lemon (finely grated)
1 1/2 tsp pure lemon extract
3/4 tsp pure vanilla extract
Frosting:
1/2 cup earth balance or butter, softened
1/2 cup cream cheese (vegan or regular), softened
1 tbsp milk
1 tsp pure vanilla extract
4 1/2 to 5 cups icing sugar
5 drops yellow food coloring (optional)
Directions: Preheat oven to 350°F and line a muffin pan with cupcake liners. Whisk the milk and lemon juice in a measuring cup and set aside to get curdled.
In a small/medium bowl, whisk the flour, cornstarch, baking powder, baking soda and salt. In a second bowl, beat the milk mixture, oil, sugar, lemon zest and extracts with a hand mixer. Add the dry ingredients and mix until no large clumps remain.
Fill cupcake liners 2/3 full and bake 20-22 minutes until done. Transfer to a cooling rack and let cool completely before frosting.
To make the frosting, beat the earth balance/butter and the cream cheese until combined. Beat in the milk and vanilla. Add the icing sugar in 1/2 cup batches. When all the icing sugar is added, mix for 5 more minutes, then add the food coloring if using.
I frosted the cupcakes with a pastry bag & 2D tip and decorated with sprinkles, red raspberry & sour lemon candies.
Makes 12 cupcakes.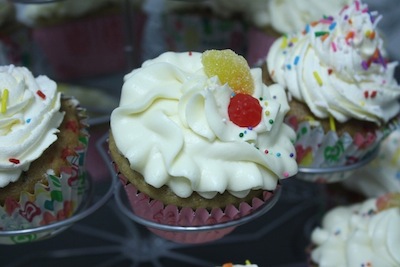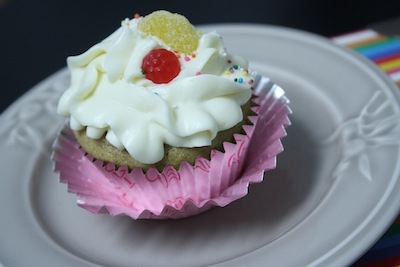 I am in love with these cupcakes. If you like lemon desserts, you'll definitely love these!
I didn't know if I was using the right amount of lemon extract but it ended up to be just enough. The cream cheese frosting is perfect with the sweet & sour lemon cake. And the candy was just and extra treat :).
Oh… and did I say I made 2 batches of cupcakes? Yep… the other one is for next time ;).