I don't make special breakfasts often these days. Because let's face eat: when you eat breakfast alone, PB & J sandwiches are way easier than an elaborate breakfast (and I love them ;)). And when I do make something, it will be muffins or bread… I can bring it with me in the morning when I'm running late, which can be useful sometimes often.
A friend sleeping over last week was the perfect time to look for something new to make for breakfast. And I knew exactly what I wanted to make: bread pudding. (I always eat my bread pudding for breakfast, it's baked french toast :P)
A little look at my recipe archives and my bookmarks was all I needed to find a bread pudding I wanted to make.
Pumpkin, Cranberry & Raisin Bread Pudding
Adaptation of Cranberry-Raisin Bread Pudding, my recipes – Pumpkin Bread Pudding, Smitten Kitchen – and Raisin Cinnamon Bread Pudding
Ingredients:
3 eggs
1 1/2 cups milk
1/2 cup pumpkin puree
1/4 tsp pure vanilla extract
2 tbsp brown sugar
1 tsp ground cinnamon
1/4 tsp ground ginger
Pinch ground cloves
1 raisin bread (500 g), cubed
1/2 cup pecans, coarsely chopped
1/2 cup fresh cranberries
Directions: In a large bowl, whisk the eggs and milk. Whisk in the pumpkin puree, vanilla, brown sugar and spices. Add the bread and toss until well coated, then stir in pecans and cranberries.
Coat a 9 x 13-inch baking dish with cooking spray or a little oil. Pour in the bread pudding. Cover with foil and let sit in the refrigerator overnight.
In the morning, preheat oven to 350°F. If your baking dish is in glass, make sure to let them sit on the counter a little so that they do not break from the change of temperature.
Bake, covered, for 30 minutes. Remove foil and bake an additional 20 minutes. Serve warm with maple syrup.
Note: if you want to make this for dessert, you can make it earlier in the day. Baking it right away might work too.
Serves 6-8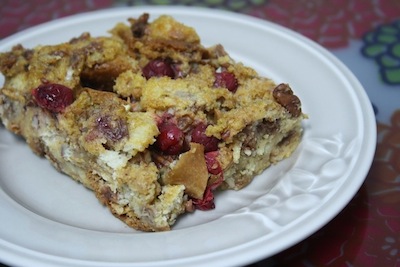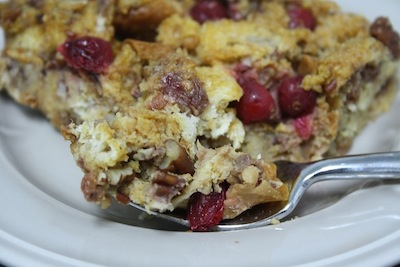 This bread pudding was so good! It has lots of flavor: the subtle pumpkin, the crunchy pecans, the sweet raisins and the tart, juicy cranberries. And the delicious maple syrup if you decide to add some ;).
Have a great week! I'll be back on Thursday with a little DIY project!