Please don't think I decided to use my oven during the heat wave.
Because I didn't use my oven one single time in the last 4 days.
But I did realize I made a delicious bread pudding a while ago and didn't post it.
What happened? I took the pictures on my second memory card because the other one was full. Then I deleted the pictures on my first one and put it back in my camera. And forgot about the pictures on the second one.
Until I saw the Cinnamon-Swirl Pecan-Crunch Bread Pudding on my recipes page and remembered the delicious bread pudding I made a while ago.

Raisin Cinnamon Bread Pudding
Adaptation of Cinnamon-Swirl Pecan-Crunch Breakfast Bread Pudding
Ingredients:
12 slices whole wheat raisin cinnamon bread
4 eggs
1 1/2 cups milk
1/2 tsp pure vanilla extract
1 tbsp brown sugar
1/2 tbsp ground cinnamon
1 1/2 tbsp raisins
1/4 cup pecans, coarsely chopped
Directions: Cut the bread slices into 9 bite-size pieces. In a large bowl, whisk the eggs and milk. Whisk in the vanilla, brown sugar and cinnamon. Add the bread, raisins and pecans and toss until well coated.
Coat a 9 x 13-inch baking dish with cooking spray or a little oil. Pour in the bread pudding and sprinkle with more cinnamon if desired. Cover with foil and let sit in the refrigerator overnight.
In the morning, preheat oven to 350°F. If your baking dish is in glass, make sure to let them sit on the counter a little so that they do not break from the change of temperature.
Bake, covered, for 30 minutes. Remove foil and bake an additional 15 minutes. Serve with maple syrup.
Note: if you want to make this for dessert, you can make it earlier in the day. Baking it right away might work too.
Serves 6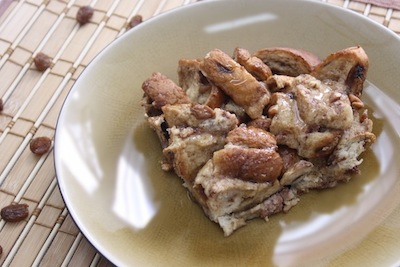 If you love raisin cinnamon bread as much as I do, you'll love this bread pudding! The added raisins and cinnamon were just enough to really make the flavor pop.
I eat my bread pudding for breakfast (I consider it's like baked french toast), but you can eat it for dessert if you prefer!
Have a great weekend!