Wow… It's been a long time since my last granola recipe! 3 months! And I used to make a batch every week… Well, that's me; I always have food phases ;).
I didn't make this granola because I am starting a new granola phase. I made it because I felt like baking something but didn't want it to be time consuming. Ad when this happens, I know I have two choices: cookies or granola (although I've also recently discovered the joys of making granola bars!). Since I already had cookies, I had one choice: granola.
I opened stickies on my computer and went through the granola ideas I had there, trying to find one I wanted to make. And for which I had all the ingredients in my cupboards.
And the winner is…

Vanilla Coffee Granola
Ingredients:
2 cups rolled oats
1 cup brown rice crisp cereal
1/4 cup wheat germ
2 tbsp flax seeds, grounded
1 tbsp chia seeds
2/3 cup slivered almonds
1/4 cup sesame seeds
1 tbsp unsweetened applesauce
1/4 cup brown rice syrup
1/4 cup maple syrup
1 1/2 tsp pure vanilla extract
1 tsp instant espresso
Directions: Preheat oven to 325°F and line a baking sheet with parchment paper.
In a large bowl, mix oats, rice cereal, wheat germ, grounded flax, chia seeds, almonds and sesame seeds. In a second bowl, whisk applesauce, brown rice syrup, maple syrup, vanilla and instant coffee together. Pour on dry ingredients and mix until well coated.
Spread the granola on the baking sheet and bake for 20 minutes, stirring after 10. Let cool completely on the baking sheet. Store in an air-tight container.
Makes 5 cups.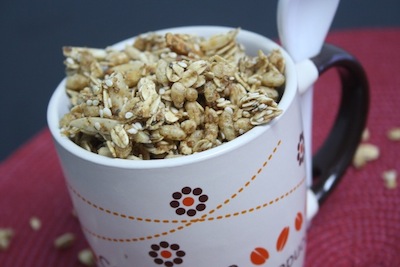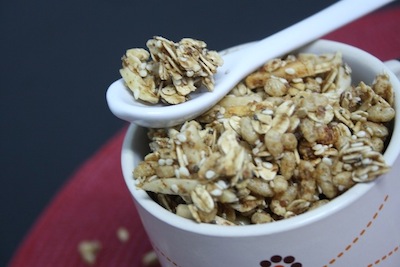 I love this granola. It is crunchy, sweet and has a great vanilla coffee flavor, but it still has that great oat & nut taste.
When you make granola, don't bake it more because it is still soft. It hardens as it cools on the baking sheet, which is why you have to let it cool completely before transferring to a container. This is the case with most granola recipes!