Pssst You could win a batch of this granola by entering the Ice Cream Challenge!
Since I love making granola, eating granola and sharing granola, the recipe I have today was a necessity in my culinary journey. You know, just a question of time.
A couple months ago, I saw a s'more somewhere and just thought I have to make a s'more granola. So it went on my ideas list. And stayed on my mind. The question was… how would I make a s'more granola?
I had ideas like roasting marshmallows on the granola. This would probably definitely not work. And it is only last week I realized I just have to coat the oats with marshmallow creme. So. Obvious.

S'more Granola
Ingredients:
3 cups rolled oats
1 cup brown rice cereal
1/4 cup wheat germ
2 tbsp flax seeds, grounded
1/4 cup crushed graham crackers
1 cup marshmallow creme
1 tbsp butter
2 tbsp maple syrup
2 graham crackers, broken in small pieces
1/2 cup chopped milk chocolate
Directions: Preheat oven to 325°F and line a baking sheet with parchment paper. In a large bowl, mix oats, rice cereal, wheat germ, flax seeds and crushed graham crackers (I crush them in a food processor). In a small saucepan, heat marshmallow creme, butter and maple syrup over low heat. Stir continuously until everything is melted and combined. Pour on dry ingredients and stir until well coated.
Spread the granola on the baking sheet and bake for 20 minutes, stirring after 10. Let cool completely on baking sheet. Transfer to a large bowl and add broken graham crackers and milk chocolate. Store in an air-tight container.
Makes 7 cups.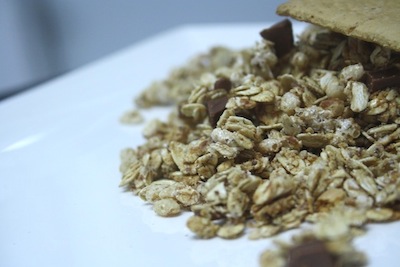 I had no idea how this would turn out. The answer is amazing. Delicious. In the sense of don't sit down with the whole container to watch your favorite TV show or you'll eat way too much (tested empirically on me).
Sure, it doesn't taste exactly like s'mores. But it has the delicious combination of marshmallow, graham crackers and milk chocolate + the crunchy clusters of oats. It might be even better than s'mores.
Not the healthiest granola, but definitely the healthiest s'more ;).