It was one of those days.
You don't want to cook dinner. You need to eat dinner. You don't want to buy dinner. The best solution: homemade dinner in 10 minutes. But dinner in 10 minutes is not always an easy thing to do.
I was hungry and my afternoon class was finishing soon. So I started to think about what I would eat. I had a recipe I wanted to make, but it was a long recipe and I didn't feel like making it.
I thought about my Grilled Goat Cheese and Mushroom Sandwich and how easy it is to make (and how delicious it is!). I didn't have goat cheese but I did have some leftover raclette cheese. So I came home and made a 5 minute dinner with raclette cheese.

Raclette Cheese, Mushroom and Onion Grilled Sandwich
Ingredients:
1 tsp olive oil
2 white mushrooms, sliced
2 thin slices onion (3 if the onion is small)
 2 slices of bread
2 slices raclette cheese
Black pepper to taste
Margarine or butter
Directions: Heat olive oil in a skillet over medium heat. Add mushrooms and onion and sautee until mushrooms are cooked. Remove from heat. Place one slice of cheese on a slice of bread. Top with the mushrooms and onions, add black pepper to taste, then add the second slice of cheese. Top with the second slice of bread and spread butter or margarine on the outsides of the sandwich. Heat a non-stick skillet over medium heat (or use a panini press). Place the sandwich on the skillet and press with a spatula until golden. Repeat on the other side. Serve immediately.
Serves 1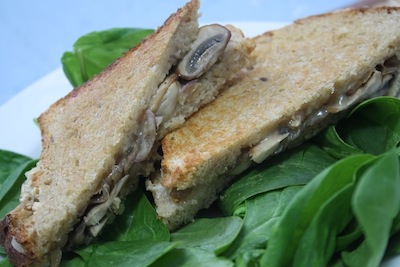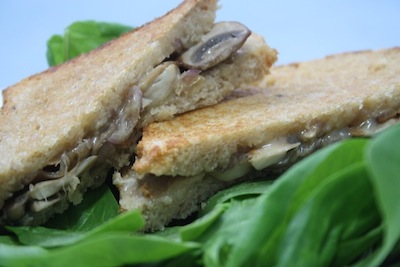 This sandwich was super easy to make and it was delicious! The mushrooms and onion go perfectly with the raclette cheese and a gooey gourmet grilled cheese sandwich is always happily welcomed by my hungry belly!