The first time I added fruit to my cookies was when I made my Vegan Dark Chocolate & Pear Cookies. And it was delicious! Then, I decided to repeat the experience and made my Raspberry White Chocolate Cookies. But this time, instead of using fresh fruit, I used jam and got sweet, cakey cookies.
It is the marmalade I had left from making my Marmalade Three Nut Granola that made me think about marmalade cookies. I thought it would be a great taste to go with the cakey texture of the cookies, so I decided to go for it. And at the last minute, I took the bag of shredded coconut and added some to the mix, hopping it would be good with the marmalade!

Marmalade Cookies
Adaptation of Raspberry White Chocolate Cookies
Ingredients:
 3/4 cup spelt flour
1/2 cup whole wheat flour
1 tsp baking powder
1/8 tsp fine sea salt
1/8 tsp ground cinnamon
1/3 cup golden cane sugar
1/2 cup earth balance, or non-hydrogenated margarine, softened
1/4 cup milk (I used unsweetened almond milk)
1/2 cup marmalade
1/4 cup unsweetened shredded coconut
Directions: Preheat oven to 350°F and line a baking sheet with parchment paper. In a bowl, mix flours, baking powder, cinnamon and salt with a whisk.
In a second bowl, mix sugar and earth balance with a hand mixer until fluffy. Add almond milk and continue mixing. Add dry ingredients and mix with a wooden spoon until combined. Mix in marmalade, then add shredded coconut.
Wet your hands and make 1 tbsp balls of dough. Place them on the baking sheet. Bake for 25-30 minutes, until golden.
Makes 20-24 cookies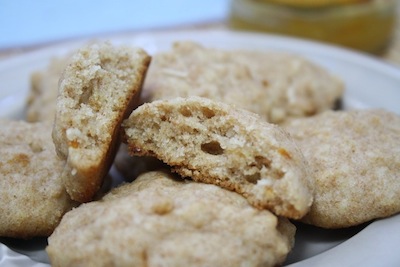 These cookies have a cakey texture, but they also have the added texture of the coconut. The marmalade taste is great, and you can't taste the coconut at all. If you don't like coconut, you will like them (tested!), and if you would like to taste the coconut, you'll have to use more, but I thought they were perfect that way, and I love coconut ;).