Well, today is my blogiversary! Apparently, it's already been 7 years since I founded Sweet Salty Spicy. A lot has changed since then, first going from vegetarian to vegan, then following The Eczema Diet. It has been a bit over 1 1/2 years now on the diet, and last year's blogiversary was the first I did not post for. At first, I completely stopped posting when I started the diet, for two reasons. First, I was uncomfortable sharing anything about my eczema journey online. Second, I did not think I could share any recipes people would want to make.
After a while on the diet, I made some recipes I realized other people following the diet may enjoy. With the addition of a Facebook support group by Karen, I had a platform to share those recipes with those fellow Eczema Diet followers. And thus a new step in my blogging began as I started sharing recipes and tips specifically for The Eczema Diet. What I hadn't expected is that I now feel like I have more of an impact as I believe I can now help people following this strict diet have more fun with food, and maybe help some follow the diet more easily.
Maybe someday I'll be able to eat more foods or even a normal diet, but I am no longer waiting for that day to come. If it doesn't, I would gladly stay on the diet to keep my eczema at bay, and if I get to eat more foods, well we'll see another new phase on the blog :).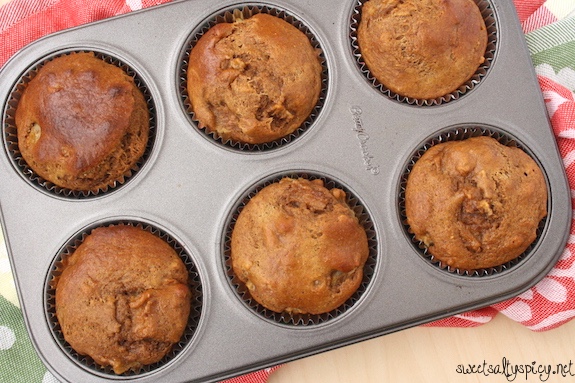 For now, let's celebrate this blogiversary with my favorite baked good! I adapted Karen's pear muffins to suit my personal needs, but also by adding protein powder, thus upping the protein content of the muffins, making them a bit more filling and complete – which is also useful on my vegan diet. They are now the only muffins I make.
I personally use barley malt as a sweetener which has a strong malty flavor that is amazing in the muffins. Rice syrup would also work, although it would not give the same malty flavor. Finally, maple syrup is an option, but the quantities must be reduced as it is sweeter.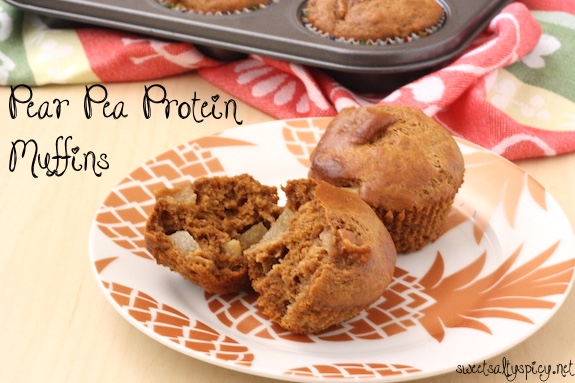 Pear Pea Protein Muffins
2017-08-13 13:48:22
vegan, nut-free, soy-free, The Eczema Diet friendly
Ingredients
1 tbsp flax seeds
1 1/4 cups spelt flour
3/4 cup 100% pure pea protein powder
3 tsp baking powder
1/2 tsp baking soda
pinch fine sea salt
1/2 cup barley malt syrup (my favorite!) or rice syrup
1 cup filtered water
1/2 tsp pure vanilla extract or 1/8 tsp ground vanilla bean (optional)
1/3 cup virgin sunflower oil or rice bran oil
2 pears, peeled and diced
Instructions
Preheat oven to 350°F and line a muffin pan with 12 muffin cups.
Grind flax seeds and mix with 3tbsp water. Set aside until gelatinous.
In a large bowl, mix spelt flour, pea protein powder, baking powder, baking soda and sea salt.
In a blender, add syrup, water, vanilla and flax seed mixture. Blend until combined. Keep blender on low speed and slowly add in oil.
Add liquid ingredients to dry ingredients and mix until combined.
Mix in peeled diced pear.
Fill muffin cups and bake for 18-20 minutes, or until a toothpick inserted in the centre comes out clean.
Let cool for 5 minutes in the pan, then transfer to a cooling rack.
Notes
Maple syrup can also be used but in smaller quantities as it is sweeter (about 1/3 cup). You may need to adjust other liquids.
I use Sunfood pure protein powder.
Adapted from Banana and Pear Muffins with Blueberries
Sweet Salty Spicy http://sweetsaltyspicy.net/