These pancakes are lightly adapted from the pancakes I made all the time even before following The Eczema Diet. I had them often a couple months ago, got out of the habit of making them, and just rediscovered them this week. They are so easy to make, they won't take any more time to make than oatmeal!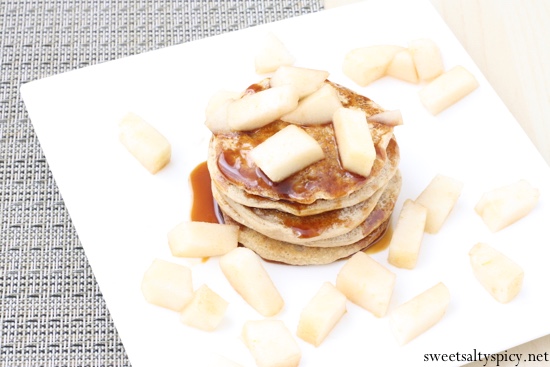 I loved to eat these pancakes with the banana carob spread from The Eczema Diet book before finding out I react to bananas. I now eat them with barley malt or maple syrup, and some diced peeled pear – yum! They would also be great with some pear and vanilla jam or compote (I make compote with the jam recipe, omitting the pectin and puréeing with a hand blender at then end). This carob syrup is another great option for those living in Australia.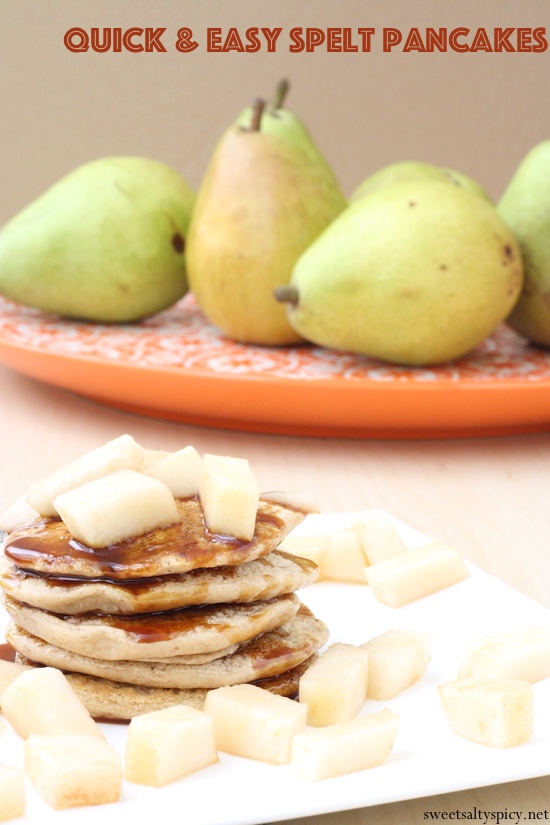 Quick & Easy Spelt Pancakes
2017-02-19 16:22:49
Serves 1
vegan, nut-free, soy-free, low salicylate, The Eczema Diet-friendly
Ingredients
1/2 cup spelt flour
1 tsp baking powder
Pinch salt
1/2 cup water or milk of choice
1/4 tsp pure vanilla extract
Instructions
Mix spelt flour, baking powder and salt.
Add water and vanilla and whisk until homogenous.
Heat a pan over medium heat. If needed, coat with a bit of rice bran oil or virgin sunflower oil (mine doesn't stick even without oil).
You can make one big pancake by putting all the batter in the pan. Or make small pancakes by adding heaping tablespoons of batter to the pan. Spread the batter a little so it is a nice shape.
When there are bubbles on top of the batter, flip the pancake(s) and let cook 1 more minutes on the other side.
Serve with your choice of topping.
Notes
Variation: these pancakes are also good with 1/4 cup spelt flour and 1/4 cup buckwheat flour.
Or, for a higher protein pancake, substitute 2 tbsp of flour with pure pea protein. You may need to add a tbsp of water since the protein absorbs more water.
Sweet Salty Spicy http://sweetsaltyspicy.net/