In the winter, I often make stew and soup because it is so comforting. I tend to just throw everything I have in a pot, but found myself remaking this version with big chunks of cabbage and lots of red lentils often. So why not share it!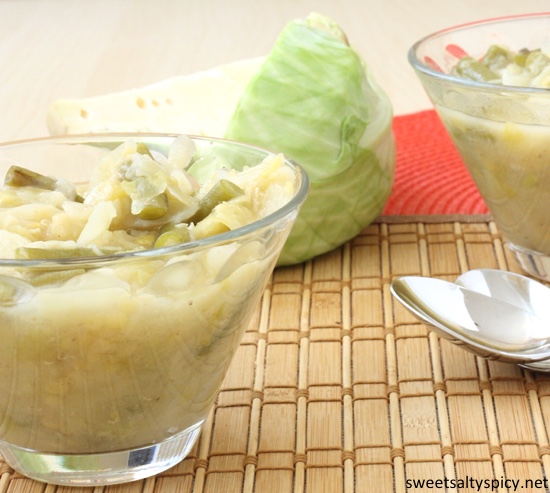 I love this soup because of the savoury flavour and thickness the lentils provide. I also add a bit of flour to make the broth thicker, which I love – I use spelt flour, but brown rice or buckwheat flour also work well for a gluten-free option.
It is very filling and I love to bring it with me for lunch during the day (if I have access to a microwave). Because this soup is even better (extremely better) as a leftover, it makes the perfect lunch or quick dinner. I make a big pot once or twice a week and take it out whenever I am hungry and don't want to make food.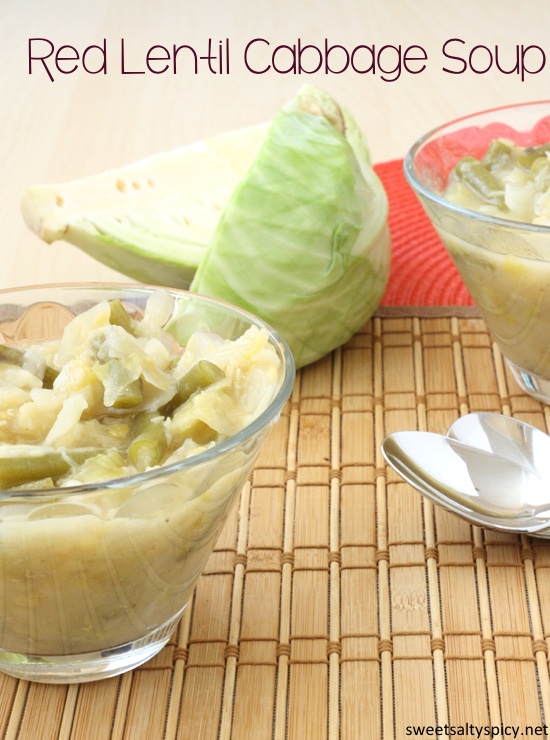 Red Lentil Cabbage Soup
2017-01-31 09:34:24
Serves 6
vegan, gluten-free option, soy-free, nut-free, oil-free, low salicylate, The Eczema Diet friendly
Ingredients
1 leek, finely diced
3 cloves garlic, minced or pressed
1 large (or 1 1/2 small) green cabbage, coarsely chopped
3 cups chopped green beans
1 1/2 cups red lentils, rinsed
4 tbsp spelt flour (use buckwheat or brown rice flour for a gluten-free soup)
salt to taste
Instructions
Add leek and garlic to a big pot with a couple tablespoons of water. Sautée on medium heat until soft.
Add cabbage and green beans. Add water and/or vegetable broth until you cover the vegetables by 1-inch.
Bring to a boil. Lower heat, cover, and simmer for 15-20 minutes.
Add red lentils, mix, bring back to a boil, lower heat and simmer uncovered for 15 more minutes.
Whisk flour with about 1/4 cup of water. Add to the soup and mix well. Let simmer a couple more minutes and remove from heat. Add salt to taste.
The soup is even better the next day!
Notes
If pressed by time, you can add all the vegetables without sautéing the leek and garlic first - still delicious! Frozen chopped green beans are also a time saver.
Sweet Salty Spicy http://sweetsaltyspicy.net/