One of the recipes I made several times on The Eczema Diet is the sesame-free hummus. I make it with several types of beans and also like to bring it to parties and potlucks with celery sticks and crackers.
Before going on a stricter salicylate-free version of the diet, I made this delicious dip with beet in it. Roasted beet and garlic give a lovely flavor- and color! – to the dip. Here it is served on buckwheat crackers (I buy Le Pain des Fleurs, which are great if you can find them). It is also good in rice paper rolls (with peeled pear, red cabbage, carrot, mung bean sprouts…) and on top of the alkaline bomb salad from The Eczema Diet book. It would probably also be good with the spelt bread from the book, that I have yet to try.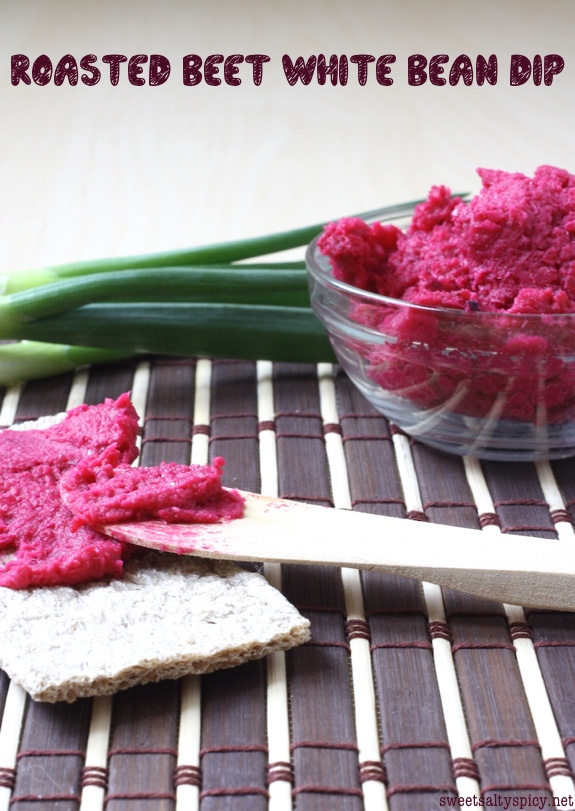 Roasted Beet White Bean Dip
2016-07-24 19:43:10
Vegan, Gluten-Free, Nut-Free, Soy-Free, Oil-Free, The Eczema Diet friendly
Ingredients
1 small-medium red beet
1 clove garlic, unpeeled
2 cups cooked white navy beans
1/4 tsp ascorbic acid or citric acid (see notes)
1 green onion, green part only, finely chopped
1 tbsp water
1/4 tsp fine sea salt (celtic or himalayan pink)
Instructions
Preheat oven to 400°F. Place the beet (whole, unpeeled) on a baking sheet and bake for 25 minutes. Add the garlic clove to the baking sheet and bake another 20 minutes, or until the beet is soft.
Let the beet and garlic cool a bit.
With gloves, remove the peel from the beet and chop into cubes. Remove the peel from the garlic.
Put all ingredients in a food processor and process until smooth. If too thick to your licking, add water 1tbsp at a time.
Notes
I use ascorbic acid. If not on the eczema diet, a bit of lemon juice can be used instead of ascorbic or citric acid.
Suitable for Stages 1 and 2 of The Eczema Diet.
Adapted from The Eczema Diet
Sweet Salty Spicy http://sweetsaltyspicy.net/