It has been a long time since I shared recipes I loved from other blogs, and I accumulated a lot! When I make a recipe from someone else without changing anything, I always keep it in my files to share later on the blog. These are all amazing recipes that I loved, and made at least once – sometimes many times. Note that most often, I omitted the oil when required for sautéing ingredients. You should definitely try them!
Go here for part 1 and here for part 2.
Breakfast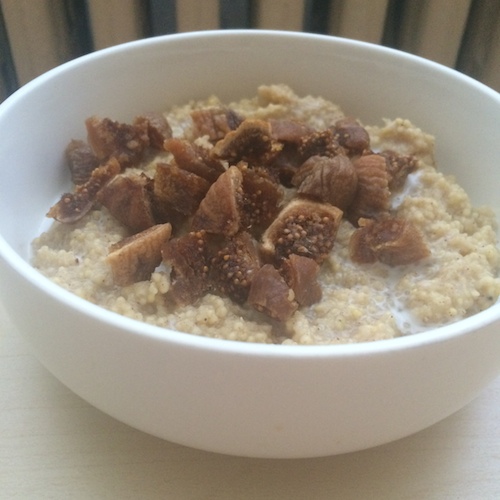 Carrot Cake Smoothie – Oh She Glows
Peanut Butter & Jelly Smoothie – Sarah Fit
Sweet + Spiced Vegan Vanilla Chai Smoothie – Blissful Basil
Matcha Green Tea Chia Pudding – Choosing Raw
Cream of Millet, Coconut, and Ginger Porridge (picture above) – Choosing Raw
Marzipan & Butterscotch Sundae – This Rawsome Vegan Life
(I eat my banana ice cream for breakfast!)
Pineapple Banana Vegan Dole Whip Float – Happy Healthy Vegan
Lunch/Dinner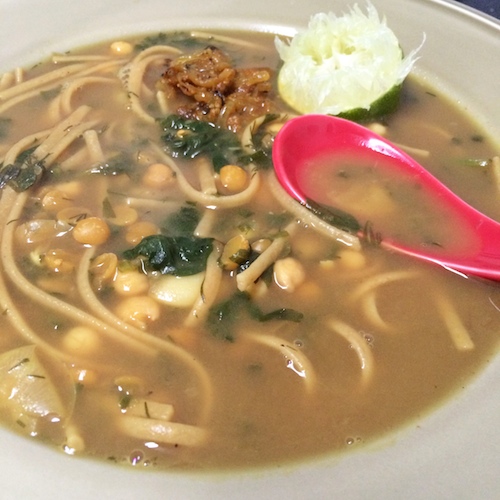 Black Eyed Pea Masala – Oh She Glows
Favourite Vegan Chili – Oh She Glows
Black Bean and Butternut Squash Burritos – Oh She Glows
Crispy Quinoa Cakes – Oh She Glows
Crispy Sweet Potato Fries & Sriracha Mayo Dip – The Art of Doing Stuff (use vegan mayo!)
Jerusalem Artichoke Soup – Simply Recipes (omit butter)
Mustard Greens – Simply Recipes
Red Lentil Coconut Soup – Scaling Back
Italian Orzo Spinach Soup – Gimme Some Oven
Spaghetti Squash Sesame Noodles with Edamame – Marla Meridith
BBQ Lentil Loaf – VeganDelish
Red Lentil Soup – The Kitchn
Iranian Legume Soup (picture above) – Health is Happiness
Meat Beany Chili – Post Punk Kitchen
Portobello Chili with Shiitakes & Fennel – Keepin' it Kind
Crispy, Oven Baked, Fat Free French Fries – Brand New Vegan
Vegetarian Boston Baked Beans – What Would Cathy Eat?
Desserts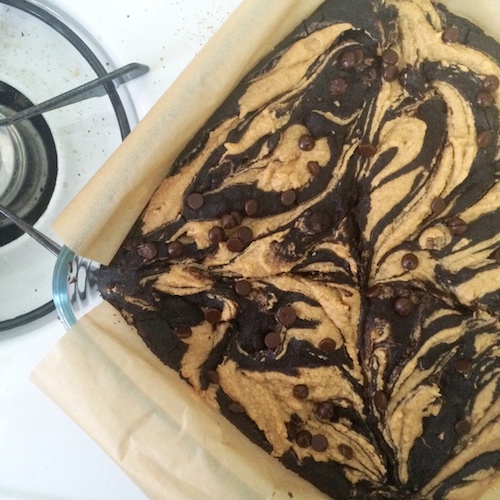 One Bowl Double Chocolate Chunk Cookies – Oh She Glows
Crispy Peanut Butter Chocolate Chip Cookies – Oh She Glows
Vegan Turtle Oatmeal Cookies – Oh She Glows
Raspberry Almond Thumbprint Cookies – Oh She Glows
Irresistible Trail Mix Cookies – Oh She Glows
Chocolate-Blueberry Cake – FatFree Vegan Kitchen
Easy Homemade Blueberry Sauce – Pinch of Yum
Double Chocolate Oil Free Cookies – The Glowing Fridge
Vegan Gluten Free Peanut Butter Swirl Brownies (picture above) – Minimalist Baker
Vegan Almond Butter Blondies with Chocolate Chips – Vegan Richa
Snacks and Beverages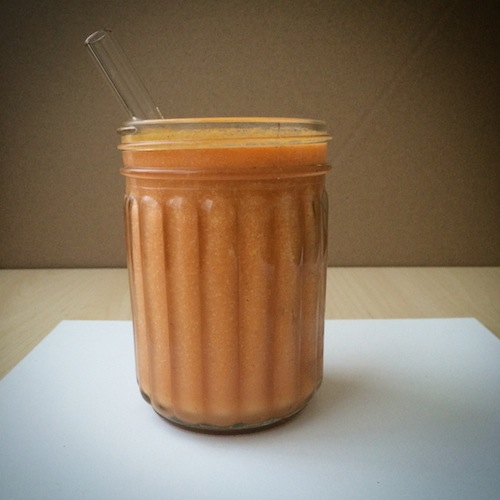 Blissful Banana Blueberry Spelt Muffins – Oh She Glows
Pumpkin Oatmeal Anytime Squares – Oh She Glows
Raw Cacao Goji Truffles – Choosing Raw
Roasted Garlic and White Bean Dip with Fresh Basil – Feast on the Cheap
Silken Tofu and Sun-Dried Tomato Dip – VegKitchen
Hummus – The Vegan Corner
Cucumber Hummus – Vegan Family Recipes
French Press Turmeric Tea – Three Beans on a String
Savory Spiced Cider (picture above) – Megan Elizabeth – Easy to be Raw