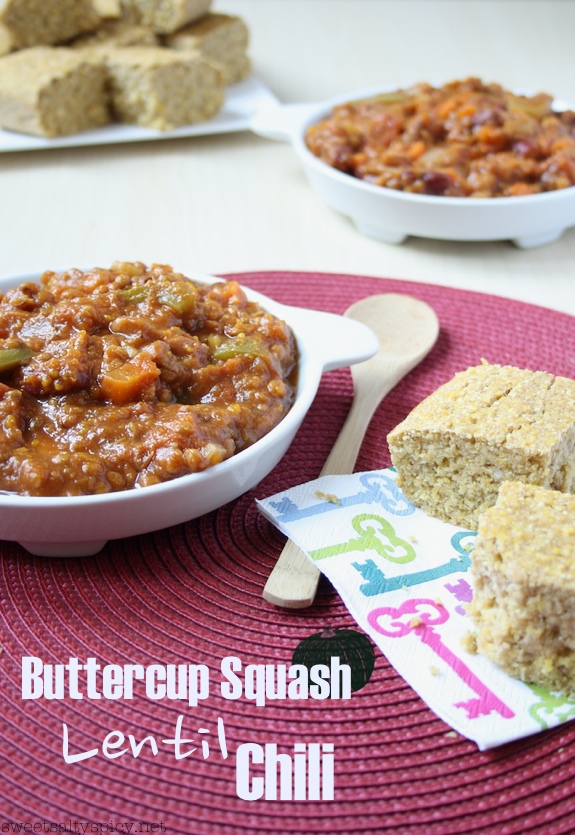 I got a buttercup squash in my weekly organic food basket and wasn't sure what to do with it, so it waited patiently on my counter for a couple weeks. With the cold weather, I ended up craving chili since it is so warm and filling.
Inspired by my pumpkin chili, I decided to use my squash to make this dish. The result is thick, spicy, slightly sweet and slightly nutty chili. If you like a more "meaty' texture in your chili, you will also love the addition of lentils to the mix, which yield a more hearty texture than if you only use beans.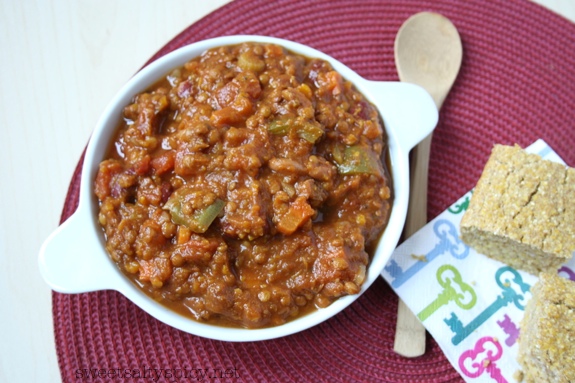 Buttercup Squash Lentil Chili
2014-11-17 14:55:32
Serves 8
vegan, gluten-free, oil-free, soy-free, nut-free
Ingredients
1 medium buttercup squash, skin removed, chopped in 2 inch cubes
1 yellow onion, chopped
3 cloves garlic, minced or pressed
3 carrots, peeled and diced
2 celery stalks, diced
1 green bell pepper, diced
1 can (15 oz) red kidney beans
1 can (15 oz) pinto beans
1 can (28 oz) diced tomatoes
1 can (28 oz) crushed tomatoes
1 1/2 cups water
1 cup brown lentils
2 tsp cumin
2 tbsp chili powder
2 tsp dried oregano
1/2 tsp dried parsley
Pinch cayenne pepper
Salt, pepper to taste
Instructions
Fill a 6-quart pot with water and bring to a boil. Prep your squash.
Add cubed squash to the boiling water and cook for 20-30 minutes, until soft. Meanwhile, prepare remaining ingredients.
Drain the squash and transfer to a bowl. Mash well with a fork or potato masher.
Add 2-3 tbsp of water to the same 6-quart pot. Add onion, garlic, carrots, celery and bell pepper. Cook over medium heat until vegetables are softened and onion is translucent.
Add kidney beans, pinto beans, diced tomatoes, crushed tomatoes, water, lentils, spices and mashed squash. Stir well.
Bring to a boil, reduce heat to low, cover and cook for 1 hour, stirring every 15 minutes.
Adapted from Pumpkin Chili
Sweet Salty Spicy http://sweetsaltyspicy.net/