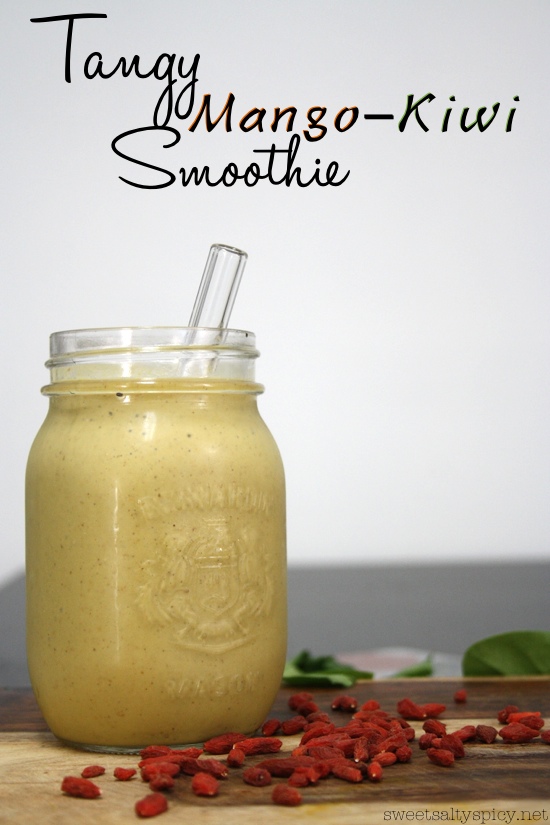 With the colder fall weather, smoothies are not my breakfast staple anymore (hello, yummy oatmeal!). However, when I work out in the morning, I still favour a smoothie since it is the only thing that is quick enough and that doesn't weight me down if I work out half an hour after drinking it (not eating anything before working out is definitely not an option for me).
I improvised this smoothie a while ago with what I had left in the kitchen and it turned out fantastic! I perfected it by trying some variations and I've been making this smoothie all the time since then! The mango makes it sweet and super creamy and the kiwi and goji berries add lots of sourness. If you love sour candies, you'll definitely love this smoothie! There is even a handful of hidden spinach in there for a nutrient boost.
Tangy Mango-Kiwi Smoothie
2014-10-30 16:41:04
Serves 1
raw, vegan, gluten-free, soy-free, oil-free
Ingredients
1/2 tbsp goji berries
optional: 1/2 tbsp chia seeds
1/4 cup water
1 cup vanilla almond milk (I use homemade)
1 kiwi, peeled
1 cup frozen mango
1 handful baby spinach
Instructions
The night before: add the goji berries and optional chia seeds to the 1/4 cup of water, place in the fridge and let soak overnight.
To make the smoothie, add the soaked goji berries with the soaking water and all the other ingredients to a blender and process until smooth.
Sweet Salty Spicy http://sweetsaltyspicy.net/