The perfect cupcakes for an Halloween party…

… or for a sweet treat any time of the year!

I had the sudden urge to make cupcakes this weekend and flipped through my cookbooks for ideas. I liked the idea of using the traditional orange+chocolate combo, and decided to make an adult version (i.e., add alcohol) by using Grand Marnier in the batter and frosting. The result is delicious chocolate cupcakes with a deep orange flavour; the orange really shines and is definitely the star of this cupcake!
The frosting is where the Grand Marnier flavour really comes through, so if you love the flavour of this liquor as much as I do, you will definitely fall head over heels for this frosting! They were so good I ate two after making them. Then, I had a heartache and forced myself to eat only one cupcake on the next day.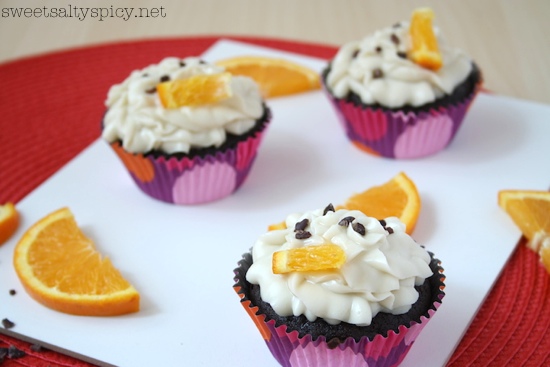 Grand Marnier Orange-Chocolate Cupcakes
2014-10-27 16:55:56
vegan, nut-free option, soy-free option
For the cupcakes
3/4 cup unsweetened non-dairy milk (I used soy)
1/4 cup Grand Marnier
2/3 cup sugar
1/3 cup light-tasting oil (I used grapeseed)
1/2 tbsp apple cider vinegar
1 tsp vanilla extract
1 tsp orange flavor
1 1/2 cups unbleached all-purpose flour
1/3 cup cocoa powder, sifted
1 tsp baking soda
3/4 fine sea salt
For the frosting
1/2 cup Earth Balance buttery spread, softened
2 tbsp Grand Marnier
1/2 tsp vanilla extract
1/8 tsp orange flavor
Pinch of salt
4 cups icing sugar
2-3 tbsp non-dairy milk, as needed
Instructions
Preheat oven to 350°F and line a muffin pan with cupcake liners.
With an electric mixer, beat non-dairy milk, Grand Marnier, oil, sugar, apple cider vinegar, vanilla extract and orange flavour. Beat on medium speed for 1-2 minutes.
In a medium bowl, mix flour, cocoa powder, baking soda and salt. Add to the liquid mixture in batches and beat until all the clumps are gone.
Spoon the batter in the prepared muffin pan, about 2/3 full for each.
Bake for 22-25 minutes or until the cupcakes slowly spring back when pressed with a finger.
Transfer to a cooling rack. Allow to cool completely before frosting.
For the frosting, beat the Earth Balance with an electric mixer.
Mix in Grand Marnier, vanilla extract, orange flavour and salt.
Gradually add the icing sugar (1/2 to 1 cup at a time) and mix until fully combined. Add some non-dairy milk if the icing becomes too dense.
Continue mixing for 5 to 10 minutes until fluffy.
Notes
These cupcakes can be nut-free and/or soy-free depending on the non-dairy milk chosen.
For my Halloween cupcakes, I used a 2D decorating tip and pipped the frosting starting from the center. I used pumpkin candies and chocolate sprinkles for decoration.
For my everyday cupcakes, I used a 2D decorating tip and pipped the frosting starting from the outside edge. I used orange slices and cocoa nibs for decoration.
Adapted from Chocolate Hazelnut Cupcakes
Sweet Salty Spicy http://sweetsaltyspicy.net/