After making my pumpkin chili, I thought it would be great to try other types of squash in a chili recipe. I had a ton of squash this week and thought; why not make a chili with all those different squash varieties? This chili has 4 different squashes and some pumpkin puree too! So you could say it is a 5-squash chili! All this squash makes for a delicious, sweet flavor.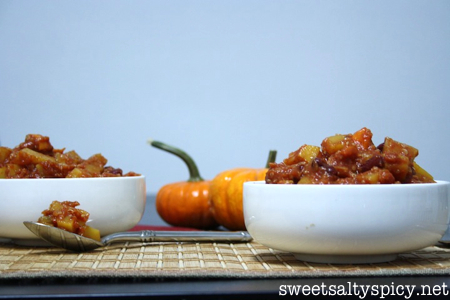 I always wanted to try out quinoa in my chili too. So I decided to add quinoa in this one, which is absolutely delicious and gives some extra texture. This chili also has far less beans than most vegetarian recipes.
This recipe is super easy to make (basically dump everything is a pot and let it cook) and makes a lot, so it is a good recipe to have some leftovers for the week and/or freeze for when you don't have time to cook.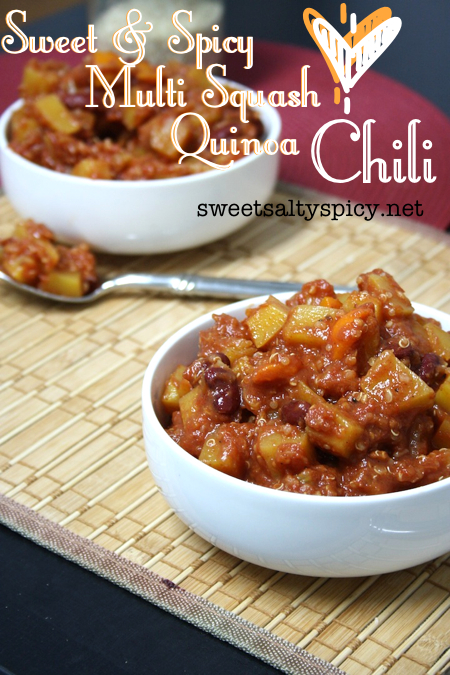 Sweet & Spicy Multi Squash Quinoa Chili
Ingredients:
1 small or 1/2 big butternut squash, diced
1 dumpling squash, diced
1 delicata squash, diced
1 small or 1/2 big acorn squash, diced
1 yellow onion, chopped
2 stalks celery, chopped
1 bell pepper, diced
1 can (28 oz) no salt added diced tomatoes
2 cans (28 oz each) no salt added crushed tomatoes
1 cup pumpkin puree
1/2 cup rinsed quinoa
1 can (19 oz) red kidney beans
2 tbsp chili powder
1 tbsp cumin
1 tsp cayenne chili powder
salt and pepper to taste
Directions: Add all the ingredients to a large pot and bring to a boil. Reduce heat to medium low, cover and simmer for one hour. An other option is to make it in the slow cooker, approximately 8 hours on low.
Serves 12