I received my new spiralizer last week and was so excited to use it and make myself some beautiful zucchini noodles! Of course, for that, I had to make some pasta sauce! The truth is I ended up eating it with regular pasta the first time because I couldn't make my spiralizer work. I thought maybe my zucchini was too juicy and then the next day I tried again with the hardest zucchini ever and could still not make it work. Until I realized I was turning the handle in the wrong way. Yep, true story!
Back to the pasta sauce. I had some cauliflower I had to use up so I decided to throw it in there along with some spinach that was starting to go bad. Add some tomatoes and a couple more things grabbed in the fridge, and I had a delicious pasta sauce.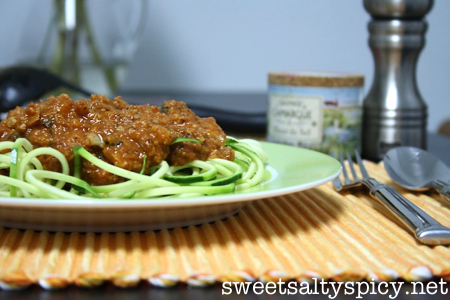 The sauce is think but still chunky because I half blended it. While I was planning on a Cauliflower-Tomato Sauce, it ended up having the texture of bolognese sauce! Although it doesn't taste the same as bolognese (I think it tastes better ;)), it still has that crumbly texture that I love.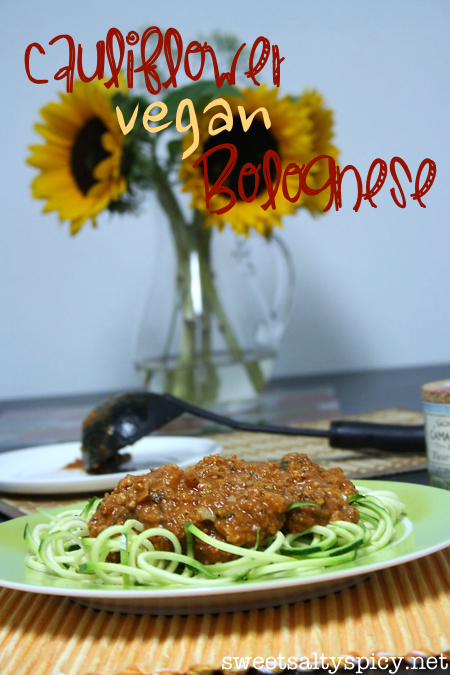 Cauliflower Vegan Bolognese
Ingredients:
1 tbsp virgin coconut oil
3 cloves garlic, pressed
1 carrot, chopped
5 cups chopped cauliflower
1/2 cup packed spinach, coarsely chopped
1 tomato, seeded and chopped
1/4 cup sundried tomatoes, finely chopped
1 tbsp capers
1 can (14 oz) no-salt-added crushed tomatoes
2 cups tomato soup or tomato sauce
2 tbsp tomato paste
2 tsp dried basil
1 tsp dried oregano
salt and pepper to taste
Directions: Heat oil in a large pot over medium heat. Add garlic, carrot, cauliflower and spinach and cook, stirring, until the spinach is wilted. Add all remaining ingredients, stir and bring to a boil. Reduce heat to low, cover, and let cook 1 hour. Remove from heat and either blend a little with a hand held mixer or transfer to a blender and pulse a couple times until you reach desired consistency.
Serve with zucchini noodles, spaghetti squash or your choice of whole grain pasta.
Serves 4-5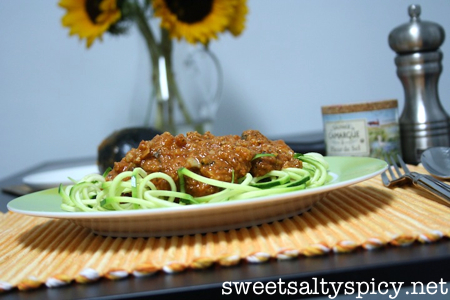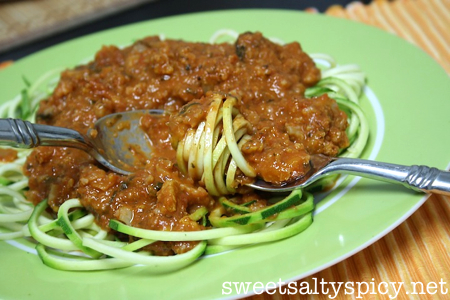 I love this sauce because it is so simple to make. While it does take time because you have to let it cook, it doesn't require much work. It could probably be made in the slow cooker if you want a quick dinner at night!
Also, zucchini noodles are the bomb! I love, love, love them. I wanted a spiralizer for a while because they do make the prettiest, longest, most spaghetti-like noodles (and they make other things too of course), but you can make zucchini noodles without one. You can also use:
I'm telling you, you should try those noodles! 😉 Not only are they delicious, you can eat more! (Always a good thing in my book)