I love making big recipes that last for the whole week. I usually make easy things like chili, stews and soup during the winter. But pasta is a necessity in my life.
The other day, I felt like making something for the week, but I also felt like making pasta! So I went on my Pinterest Italian Entree board and found a penne bake that looked delicious. I decided to add roasted peppers and some spices for more flavor and it turned out delicious! And it was still delicious as leftovers, which was the purpose of the recipe ;).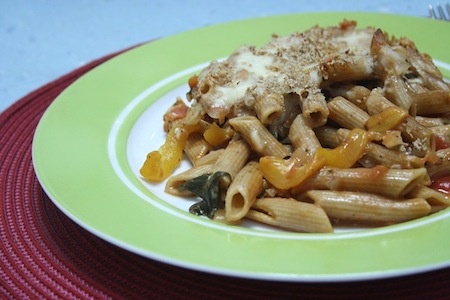 Spinach, Tomato & Roasted Pepper Pasta Bake
Adaptation of Penne Bake with Spinach and Tomatoes, Bev Cooks
Ingredients:
2 bell peppers (I used one orange and one yellow)
1 pkg (375 g) whole wheat penne rigate
2 tbsp olive oil
1 big spanish onion, chopped
5 garlic cloves, crushed
1 pkg (142 g) spinach
1/4 tsp crushed red pepper
1 tsp dried basil
1/2 tsp dried oregano
1/4 tsp ground coriander
1/4 tsp celery seeds
1/4 tsp dried sage
1 can (28 oz) diced tomatoes
1 dash sriracha sauce
salt & pepper to taste
1 slice of bread (I used sprouted wheat)
1 tsp margarine or butter
3 cups shredded mozzarella
Directions: Slice the peppers in half, remove the seeds and put under the broiler until blackened. Remove from oven and put them in a plastic bag (ziploc). Let them cool and prepare other ingredients. When the peppers are cooled enough to handle, remove the skin and slice them.
Preheat oven to 400°F and bring a big pot of water to a boil. When the water boils, cook pasta according to package directions.
Meanwhile, heat oil in a large saucepan over medium heat. Add onions and garlic and cook until the onion starts to get translucent. Add spinach and spices and cook until the spinach is wilted. Add diced tomatoes and sriracha and simmer for 5-10 minutes. Add salt and pepper to taste, then toss in cooked penne rigate.
Make breadcrumbs by processing the slice of bread and butter in a food processor.
Pour mixture in a 9×15 inch baking dish. Sprinkle with cheese and breadcrumbs. Bake for 30 minutes and serve.
Serves 6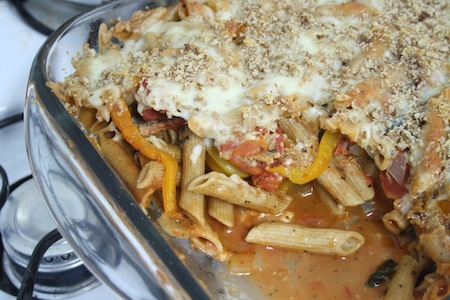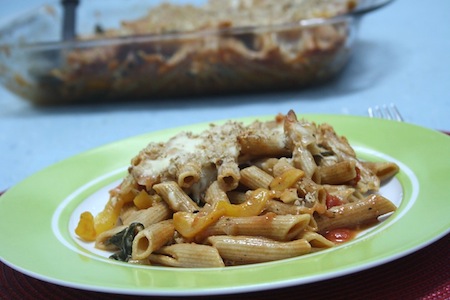 This pasta is easy to make even though it looks like there is a lot of ingredients and steps. I was happy I added the roasted peppers, they were my favorite part of the dish!