I might have said this a thousand times, but I love making granola. It is so easy, and you can get really creative without that many chances of messing up.
Anyway, the other day I was feeling like eating some peanut butter granola but wanted to be a little more original than making it just plain peanut butter ;). I also wanted to add chewy dried fruit to my granola but didn't know what I could add. And then I saw yummy dried figs at the grocery store, and creativity struck.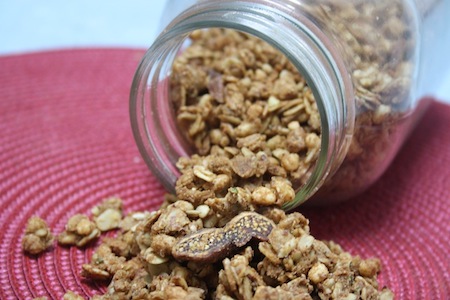 Peanut Butter, Maple & Cinnamon Granola with Figs
Adaptation of Peanut Butter, Banana & Dark Chocolate Granola
Dry ingredients:
2 cups rolled oats
1 cup brown rice cereal
1/4 cup raw buckwheat groats
1/4 cup wheat germ
2 tbsp wheat bran
2 tbsp flax seeds, grounded
1 tbsp hemp seeds
1/2 tsp fine sea salt
1/2 tbsp ground cinnamon
1/2 cup natural smooth peanut butter
1/2 cup maple syrup
1 tsp blackstrap molasses
1 tbsp walnut oil (or oil of choice)
1 tbsp coconut milk
1/2 tsp pure vanilla extract
1/4 tsp maple extract
Directions: Preheat oven to 325°F and line a baking sheet with parchment paper. In a large bowl, combine all the dry ingredients.
Add peanut butter, maple syrup, molasses, oil and coconut milk in a small saucepan and place over medium-low heat. Stir until melted and well combined. Stir in vanilla and maple extracts. Pour on dry ingredients and toss until well coated.
Spread on the baking sheet and bake for 20-25 minutes, stirring after 10. Let cool on the baking sheet. It will stiffen up while it cools. Transfer to a bowl and stir in chopped dried figs. Store in an air-tight container.
Makes approximately 6 cups of granola.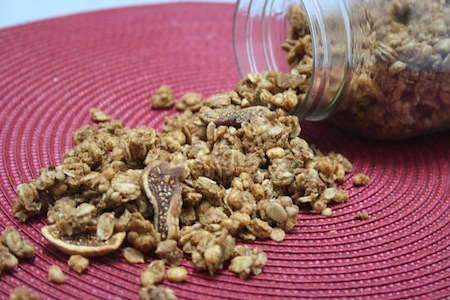 This granola is extra flavourful and all the different ingredients blend into pure deliciousness. The peanut butter doesn't stand out as much as it did with other peanut butter granolas I made and you can definitely taste the cinnamon and maple, which are perfect additions. This was a delicious breakfast with greek yogurt and berries!