Sometimes there's a story behind a recipe. Actually there's always a story because otherwise there would be no blog post. But this one is quite simple.
I wanted biscotti. I decided to make biscotti. I looked in my cupboards to see what I had. I had coconut and white chocolate. So I made coconut and white chocolate biscotti.
Told you it was simple ;).

White Chocolate Coconut Biscotti
Adaptation of Coconut Biscotti, MyRecipes
Ingredients:
1 1/2 cups unbleached all purpose flour
3/4 tsp baking powder
1/4 tsp fine sea salt
1/4 tsp baking soda
1/8 tsp ground nutmeg
1/8 tsp ground cinnamon
3/4 cup golden cane sugar
2 eggs
1 tsp pure vanilla extract
1 tsp coconut extract
1 cup unsweetened shredded coconut
3/4 cup chopped white chocolate
Directions: Preheat oven to 300°F and line a baking sheet with parchment paper. Combine flour, baking soda, salt, baking powder, nutmeg and cinnamon. In a second bowl, beat sugar and eggs with a hand mixer for 2 minutes until thick. Beat in vanilla and coconut extracts. Add flour mixture and stir to combine (dough will be very sticky). Stir in coconut and white chocolate.
Shape dough into a 15 x 3-inch roll. Place on baking sheet and pat to 1-inch thickness. Bake for 40 minutes or until golden brown. Keep oven on. Cool for 5 minutes on cooling rack.
Cut roll into 1/2 to 3/4 inch thick slices. Place slices on baking sheet and bake for 10 minutes. Flip the biscotti and bake for an other 10 minutes. Remove from baking sheet and cool completely on cooling rack.
Makes 15-20 biscotti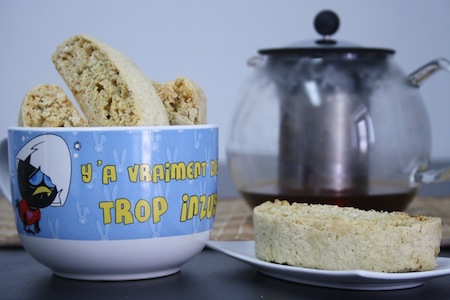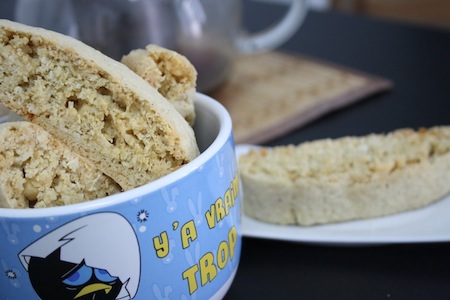 These biscotti were amazing. If you love coconut, you'll never be able to stop eating them. Just the smell is to die for. The flavor is perfect with strong, dark coffee! Oh, with mochas too! Yum 🙂