I used to think biscotti were hard to make. And then I made some and discovered they are actually quite easy to make. And is there something better than having a delicious biscotti to dip in your morning latte? Answer: no.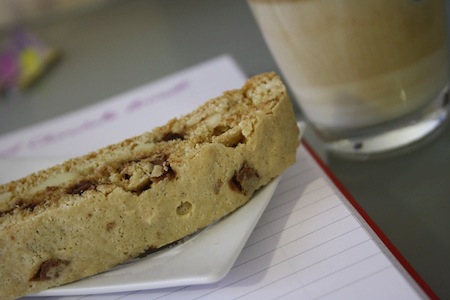 Every time I make a baked good, I share it with friends. I decided to make almond biscotti because one of my friends' favorite flavor. And I love almond too!! 🙂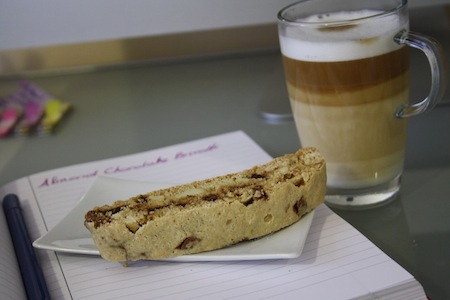 Almond Chocolate Biscotti
Adaptation of White Chocolate Coconut Biscotti
Ingredients:
1 1/2 cups unbleached all purpose flour
3/4 tsp baking powder
1/4 tsp fine sea salt
1/4 tsp baking soda
1/4 tsp ground cinnamon
3/4 cup golden cane sugar
2 eggs
1 tsp pure vanilla extract
1 tsp pure almond extract
1/2 cup shredded almonds
3/4 cup chopped milk chocolate
Directions: Preheat oven to 300°F and line a baking sheet with parchment paper. Combine flour, baking soda, salt, baking powder and cinnamon. In a second bowl, beat sugar and eggs with a hand mixer for 2 minutes until thick. Beat in vanilla and almond extracts. Add flour mixture and stir to combine (dough will be very sticky). Stir in shredded almonds and milk chocolate.
Transfer dough to the baking sheet, wet hands and shape into a 12 to 15-inch flat log.
Bake for 40 minutes. Keep oven on. Cool for 5 minutes on cooling rack. Cut roll into 1/2 inch thick slices. Place slices on baking sheet and bake for 10 minutes. Flip the biscotti and bake for an other 10 minutes, Remove from baking sheet and cool on a cooling rack.
Makes approximately 15 biscotti.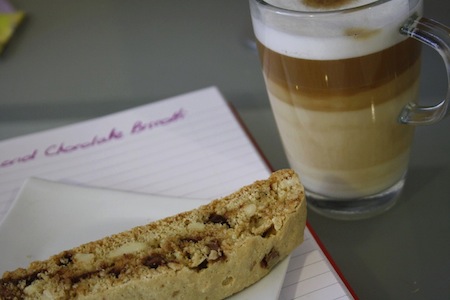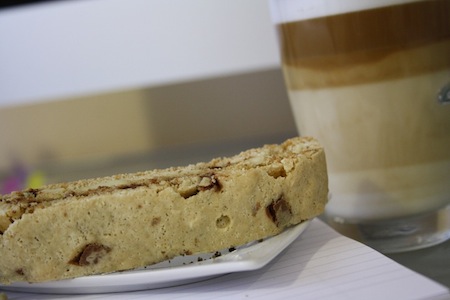 These biscotti were delicious. It is perfect with coffee, with the combination of the crunchy almond and the chocolate that melts.