I felt like trying something new with my coffee this week and I happened to stumble upon homemade creamer recipes on Pinterest. Believe it or not, I actually never, ever had creamer with my coffee. So I decided to go ahead and make myself some creamer.
Which is delicious. But don't ask me to compare it to store-bought creamer, I never had any :P. I decided to make the recipe vegan and use coconut milk. It makes it extra creamy without using heavy cream.

Vegan Cinnamon Strudel Coffee Creamer
Adaptation of Cinnamon Strudel Creamer, Deliciously Organic
Ingredients:
3/4 cup full fat coconut milk
1/4 cup milk of your choice (I used plain soy milk, almond milk would be great too!)
2 1/2 tbsp maple syrup
3/4 tsp ground cinnamon
1 tsp pure vanilla extract
1/2 tsp pure almond extract
Directions: Whisk coconut milk, milk, maple syrup and cinnamon in a small saucepan over medium heat. When the mixture begins to steam, remove from heat and whisk in extracts. Pour in a glass bottle or jar and refrigerate. When cold, strain through a fine mesh sieve. Keeps between one and two weeks in the refrigerator.
Makes 1 cup.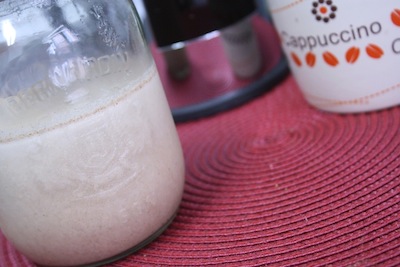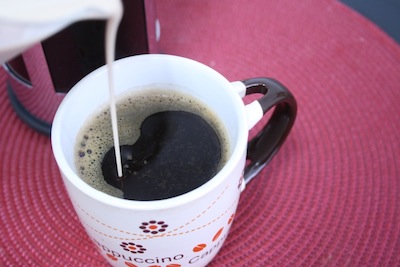 I could probably drink this creamer as is. It smells exactly like cinnamon strudel! It gives a nice sweet flavor to the coffee and it makes it a little creamy (duh.. "creamer" :P). I can't wait to experiment and create other flavors!