I looooove making cinnamon rolls.
I get happy when I see my proofed yeast.
And kneading dough relaxes me.
But making cinnamon rolls takes a loooot of time. So I need to have a lot of time to make some.
And guess what… I had some time!
And I made the best rolls I ever had the joy of eating.

Cherry Pie Dark Chocolate Rolls
Adaptation of Raspberry Cinnamon Rolls
Ingredients:
Yeast mixture:
2 tsp active dry yeast
1/2 tsp sugar
1/2 cup 100-110°F
Dough:
1/2 cup milk (I used unsweetened vanilla almond milk)
1/3 cup sugar
1/3 cup butter or earth balance
1 tsp fine sea salt
1/2 flax egg: mix 1/2 tbsp flax seeds, grounded, and 1 1/2 tbsp water
Yeast mixture
3 cups unbleached all purpose flour
Filling:
1/8 cup butter or earth balance, softened
1 can (540 ml) cherry pie filling
1/4 cup chopped dark chocolate
Pan sauce:
1/2 cup butter or earth balance, melted
Glaze:
1 1/4 cup icing sugar
2 tbsp milk (I used almond milk)
1 tbsp vanilla extract
1 tsp coconut extract/flavoring
Chocolate Ganache:
1/8 cup milk (I used unsweetened vanilla almond milk)
2 ounces dark chocolate, chopped
1 tbsp pure maple syrup
Directions:
Mix flax egg and set aside. Mix together yeast ingredients and set aside for 10 minutes until doubled in size and bubbly.
Meanwhile, combine the wet dough ingredients (almond milk, earth balance, sugar, salt and flax egg) in a small saucepan. Heat on medium heat and stir until combined. Remove from heat and let cool until it is 100-110°F.
Place 2 cups of flour in a bowl. When the saucepan mixture is cooled enough, add in the proofed yeast. Add the mixture to the flour and stir with a wooden spoon for 30 seconds. Add the remaining cup of flour. Mix with the spoon for 10 seconds, then knead roughly with hands for an other 10 seconds. Place the dough (and flour) on a floured surface.
Knead the dough for 8 minutes, starting slow, until it doesn't stick to the touch. Add flour only if it starts to stick to the counter. Shape into a ball and place into an oiled bowl. Cover with plastic wrap or a wet towel and place in the oven with the light on. Let rise for 90 minutes.
After 90 minutes of rising, poke the dough to make sure it is ready. If you poke the dough and it does not spring back, it is ready. Use your hands to spread the dough into a 8 inch by 20 inch rectangle. Go slow so you don't rip the dough.
Spread the 1/8 cup of room temperature earth balance on the dough with a pastry brush. Spread the cherry pie filling. Sprinkle with the chopped dark chocolate.
Grab the end of the dough starting at the shortest end and roll the dough, trying to keep the sides as straight as you can. Let it rest on the seam when it's rolled up completely.
Pour the 1/2 cup of melted butter/earth balance in a 9 inch by 13 inch baking dish.
Grab some floss and cut the rolls placing the floss underneath the dough and bringing it up and crossing it to cut the rolls. Place the rolls in the baking dish. Cover with a wet towel or plastic wrap and place in the oven with the light on. Let rise 45 minutes.
Remove the rolls from the oven and preheat to 350°F. Remove towel or plastic wrap and bake for 25 minutes, until golden.
Meanwhile, prepare the glaze by whisking all ingredients together. When the rolls are done, drizzle the glaze on them. When the rolls are cooled, prepare the chocolate ganache. In a small saucepan, heat the milk over medium heat until it starts to simmer. Remove from heat and stir in the chopped chocolate and maple syrup until well combined. Drizzle on the rolls.
Makes 8 cinnamon rolls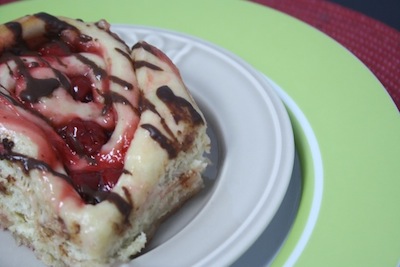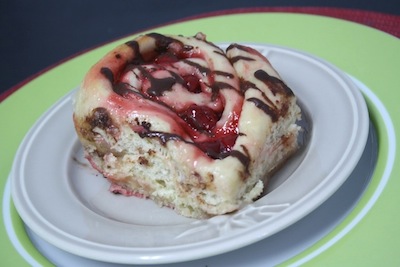 These rolls were sooo good. They are extra buttery and not too sweet. The sweet cherry filling and the bitter taste of the dark chocolate compliment each other perfectly. And the sweet vanilla and coconut glaze adds a little something ;).
For step by step pictures, see Raspberry Cinnamon Rolls.