I used to not like hate risotto. Until I learned how to like it. I am now in love with risotto!
Step 1. Stir, stir, stir. I thought risotto was too sticky, but the trick is to add a ladle of broth at a time and stir. Risotto is not regular rice!
Step 2. Have fun with flavors. Regular mushroom risotto is delicious. But there is much more you can do with arborio rice! Like…
And a close second to the Pumpkin Risotto, although it didn't take 1st place…

Butternut Squash Risotto
Adaptation of Risotto à la citrouille, au citron et au parmensan, Menu Végé
Ingredients:
4 cups vegetable broth
1/4 tsp dried rosemary
2 tbsp olive oil
1 tbsp butter
1 white onion, chopped
2 cloves garlic, pressed
1 1/2 cups arborio rice
2 pounds (1/2 big) butternut squash, peeled and coarsely chopped
2/3 cup dry white wine
1/8 tsp turmeric
Juice of 1 lemon
1/2 cup parmesan
Salt, pepper to taste
Directions: In a small saucepan, heat broth over medium heat until hot. Add rosemary and reduce heat to low. Heat oil and butter in a large saucepan or very large skillet over medium heat. Add onion and garlic and cook until onion gets translucent. Add rice and butternut squash and cook for 1-2 more minutes.
Add wine and turmeric and cook, stirring, until wine is evaporated. Add a two ladles of broth and cook, stirring, until liquid is absorbed. Continue to add a ladle of broth at a time, stirring, until liquid is evaporated after each addition.
Stir in lemon juice, parmesan, salt and pepper and serve.
Serves 6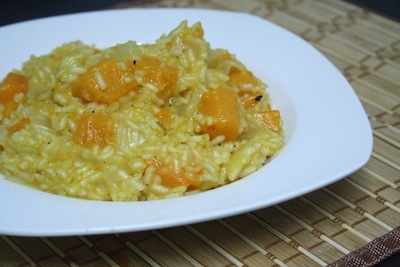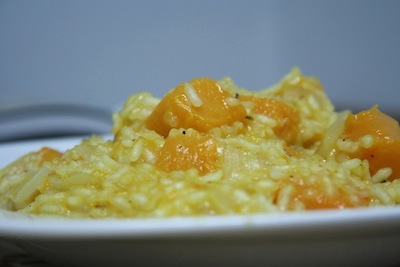 This risotto was really good. The lemon, parmesan, rosemary and turmeric add a great flavor. A little but of the squash gets blended in the risotto but you still keep nice big chunks. It is also very filling!
You can use chopped pumpkin instead of butternut ;).