On my birthday this year, a friend was kind enough to make me dinner despite the very limited number of foods I eat following a restricted version of The Eczema Diet. I was pleasantly surprised as she actually made me dishes that were different from my everyday go-tos, with an appetizer, entrée and dessert.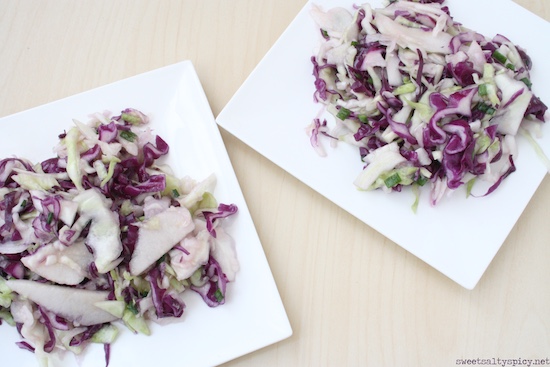 For my appetizer, she made a coleslaw with pears that was absolutely delicious. I ended up recreating it and making it from time to time. I can't take all the credit for this recipe, but it is definitely a keeper as an easy, salad-type dish that will be appreciated by both people following The Eczema Diet and others looking for easy recipes.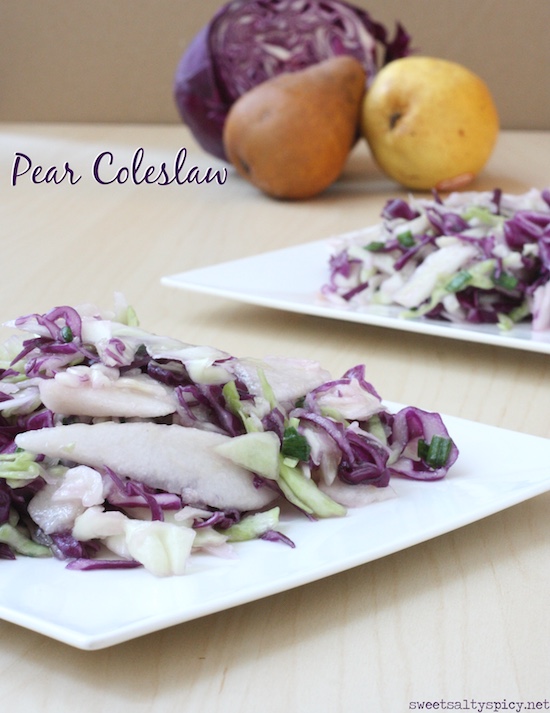 Pear Coleslaw
2017-11-05 16:38:19
Serves 6
vegan, gluten-free, soy-free, nut-free, raw, low salicylate, The Eczema Diet-friendly
Ingredients
4 cups thinly sliced red and green cabbage
3/4 tsp fine celtic salt or fine sea salt
3 green onions, green parts only, sliced
2 ripe pears, peeled
1/2 tbsp virgin sunflower oil (see note)
Instructions
Place the cabbage in a bowl. Add salt and massage the cabbage. Set aside to soften for 5 minutes. Add the green onions, massage again and set aside 5-10 minutes.
Thinly slice 1 1/2 pear. Add to the cabbage.
Mash the remaining 1/2 pear. Mix in the oil. Pour on the salad, mix and serve.
Notes
Sunflower oil adds good flavour to this salad. You may substitute flax oil which will give a nutty flavour. If you can't use either and are on The Eczema Diet, use safflower or rice bran oil.
Sweet Salty Spicy http://sweetsaltyspicy.net/