I love potatoes and always had them often, but they are definitely a daily staple since beginning The Eczema Diet. While I usually have them steamed or baked, it can be fun to add some variety. I wanted to try potato waffles since getting my waffle iron for Christmas, and the only thing I am wondering is why did I wait for so long?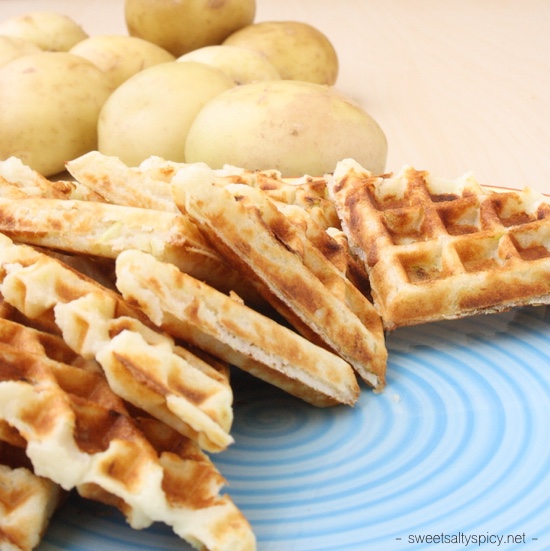 These waffles are quite easy to make and are delicious! Crispy on the outside and creamy on the inside, they made me think of a cross between hash browns and mashed potatoes. I thought they are quite similar to the frozen or fast food hash brown patties, which I used to love. The garlic and leek give the waffles a bit of additional flavor, but you can't taste them a lot so it may be a great way to sneak in some leek if you don't like it that much.
The waffles are good as it, or with hummus or bean spread to dip in!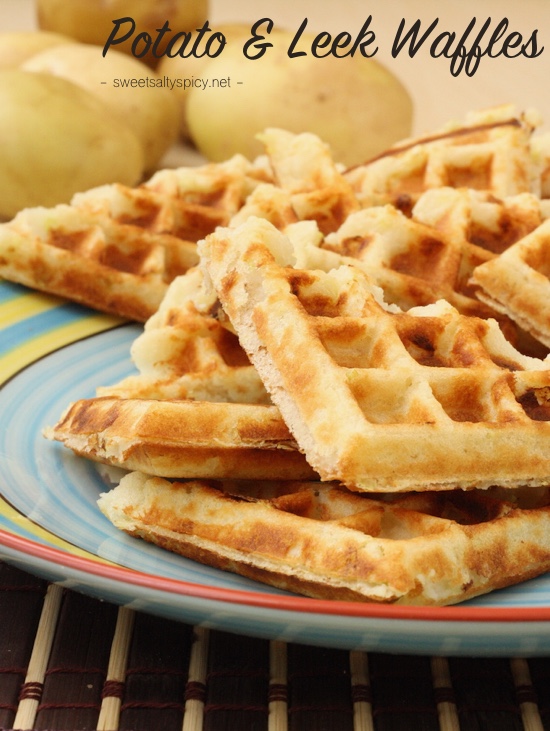 Potato and Leek Waffles
2016-08-14 20:49:54
Vegan, Gluten-Free, Soy-Free, Nut-Free, Low Salicylate, The Eczema Diet Friendly
Ingredients
2 heaping cups peeled and diced white potatoes (1-inch cubes)
1 leek, white parts only
1 clove garlic
1/2 tsp sea salt
4 tsp rice bran oil
1/4 cup brown rice flour
Instructions
Steam or boil the potatoes until soft.
Meanwhile, finely chop the leek; slice in half, then slice each half in three lengthwise and thinly slice. Press or finely mince the garlic clove.
Add 1-2 tbsp of water to a skillet and heat over medium heat. Sautée leek and garlic until soft. Set aside.
When the potatoes are cooked, drain and transfer to a bowl. Mash the potatoes, then add all other ingredients and mash them in until well combined.
Preheat waffle iron (coat with oil if it is not completely non-stick; mine does not need this). Divide potato mixture in 3 balls. Gently press each ball with your hands into 1-inch thick disks.
When waffle iron is ready, add one disk to the centre of the iron. Slowly press down until it is closed. Cook until firm and crisp (5-7 minutes).
Serve immediately for crisp waffles (the waffles will get soft after a while).
Notes
I made 3 balls with the mixture for a round waffle iron. For a waffle iron making small squared waffles, divide mixture in six balls (one per square).
Adapted from Euphoric Vegan
Sweet Salty Spicy http://sweetsaltyspicy.net/